grandMA3 User Manual
grandMA3 Quick Start Guide

00 Welcome
01 New Show and Setup
02 First Patch
03 First View Setup
04 Control Simple Fixtures
05 3D Fixture Setup
06 Groups, Appearances, and Scribbles
07 Macros
08 Store Cues and Use Executors
09 Add Moving Lights
10 Presets
11 Phasers
12 Sequence with multiple cues
13 Network and How to Output DMX

grandMA3 Quick Manual consoles
grandMA3 Quick Manual processing units
grandMA3 Quick Manual Nodes
grandMA3 Quick Manual Nodes DIN-Rail
grandMA3 Quick Manual onPC command wing XT
grandMA3 Quick Manual onPC command wing
grandMA3 Quick Manual onPC fader wing
grandMA3 Quick Manual onPC rack-unit
grandMA3 Quick Manual viz-key
grandMA3 Quick Manual I/O Nodes
Release Notes
Network and How to Output DMX
Table of contents of this topic
This final chapter is only information, we are not going to add anything to the show.
You can connect multiple grandMA3 hardware devices on a network.
This allows you to be multiple operators working together on the same showfile.
It also offers backup in case some hardware stops working.
There are two directions to go in a grandMA3 network.
The first direction is a grandMA3 onPC solution where the computing hardware is a Windows or Mac computer running the grandMA3 onPC software.
We are not permitted to output anything from the grandMA3 onPC software unless we have some grandMA3 hardware that unlocks parameters/attributes for us. If we have an onPC solution, then there is a limit of 4 096 parameters. We can patch these parameters in any of the 1 024 universes available to the system. We need something that can convert the DMX in the network into actual physical DMX universe outputs if we need to control the fixtures.
The other direction is using grandMA3 consoles as the primary computing hardware. This can be combined with grandMA3 onPC.
The console system gives you some parameters from the beginning. The way to expand the parameters is by adding grandMA3 processing units. Much of the grandMA3 hardware have physical DMX ports. These can (as a general rule) be used as an input or an output.
Session
To connect the grandMA3 devices with each other, they need to be connected to a network switch and have IP addresses. We are not going into details on how to do this.
Then a Session needs to be set up. There is always a master device in a session - this needs to be what we call a station. Any grandMA3 device that can create and run a session is called a Station. Other grandMA3 hardware in the network can join the session.
This is controlled from the Network Menu.
Click the gear icon

in the control bar or press the Menu key, and then click Network.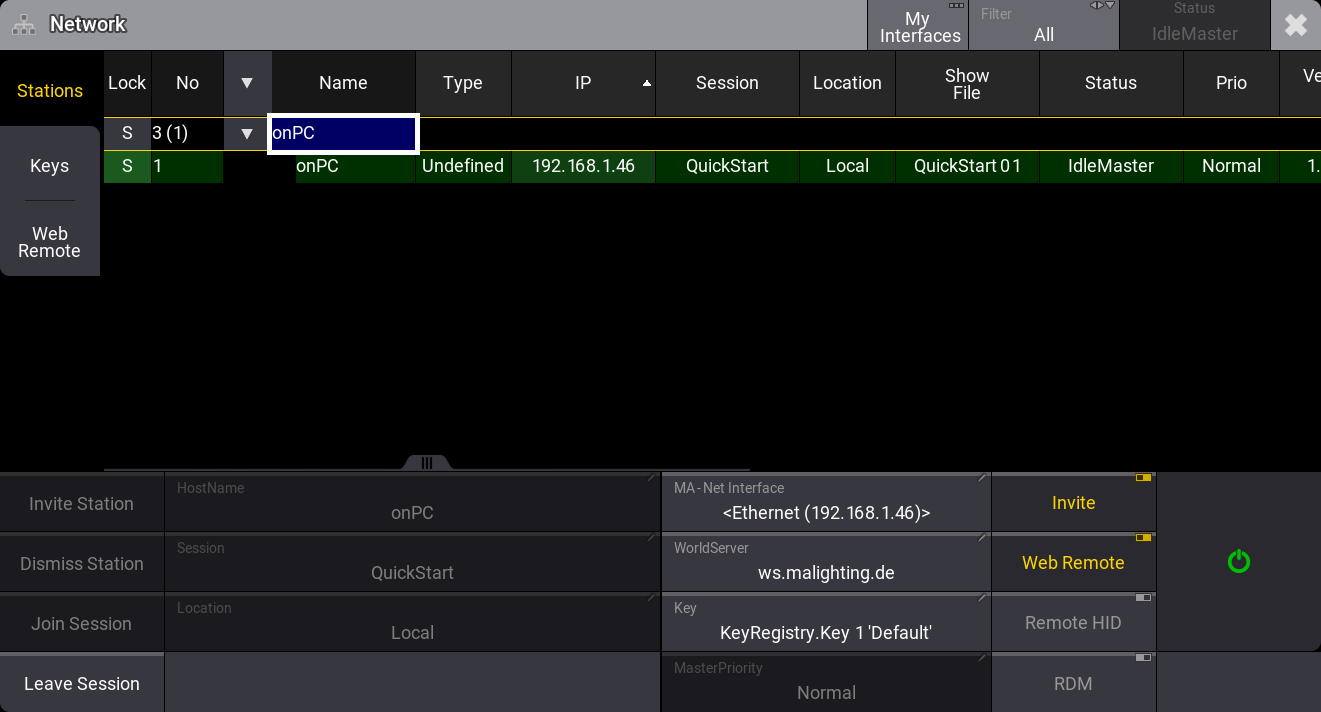 Other grandMA3 hardware on the network will appear in this menu and can be selected and invited into the session.
Configuring a DMX Port on grandMA3 Hardware
The DMX ports on any connected grandMA3 hardware can be configured from any station.
Open the menu pop-up again and this time click Output Configuration.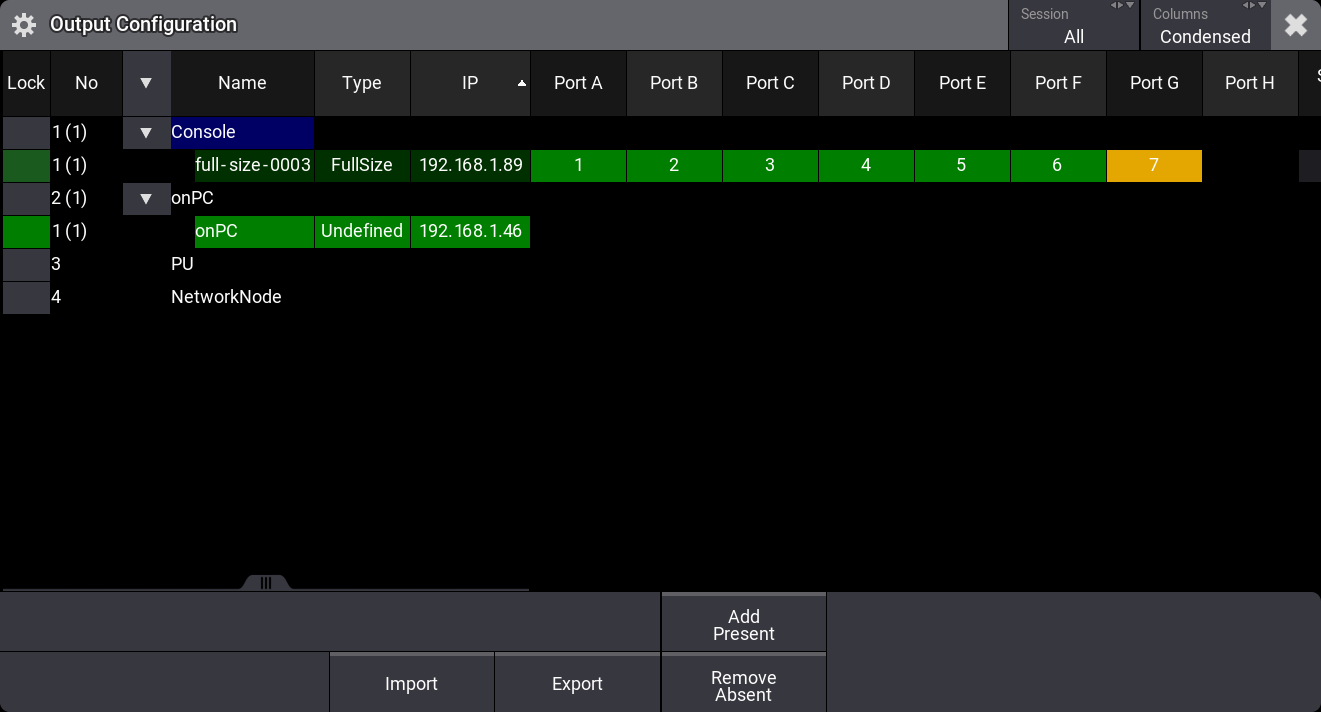 In the example image above you can see that there is a FullSize console with DMX ports. The onPC is not connected to any grandMA3 onPC command wing or fader wing that has DMX ports.
Editing the fields for any of the ports allows you to select which universe the port should output or input DMX into.
Network DMX
Another option is to output (or input) DMX using Art-Net or sACN. This is done by opening the menu pop-up again and then clicking DMX Protocols.
There are two options on the left side where you can select Art-Net or sACN.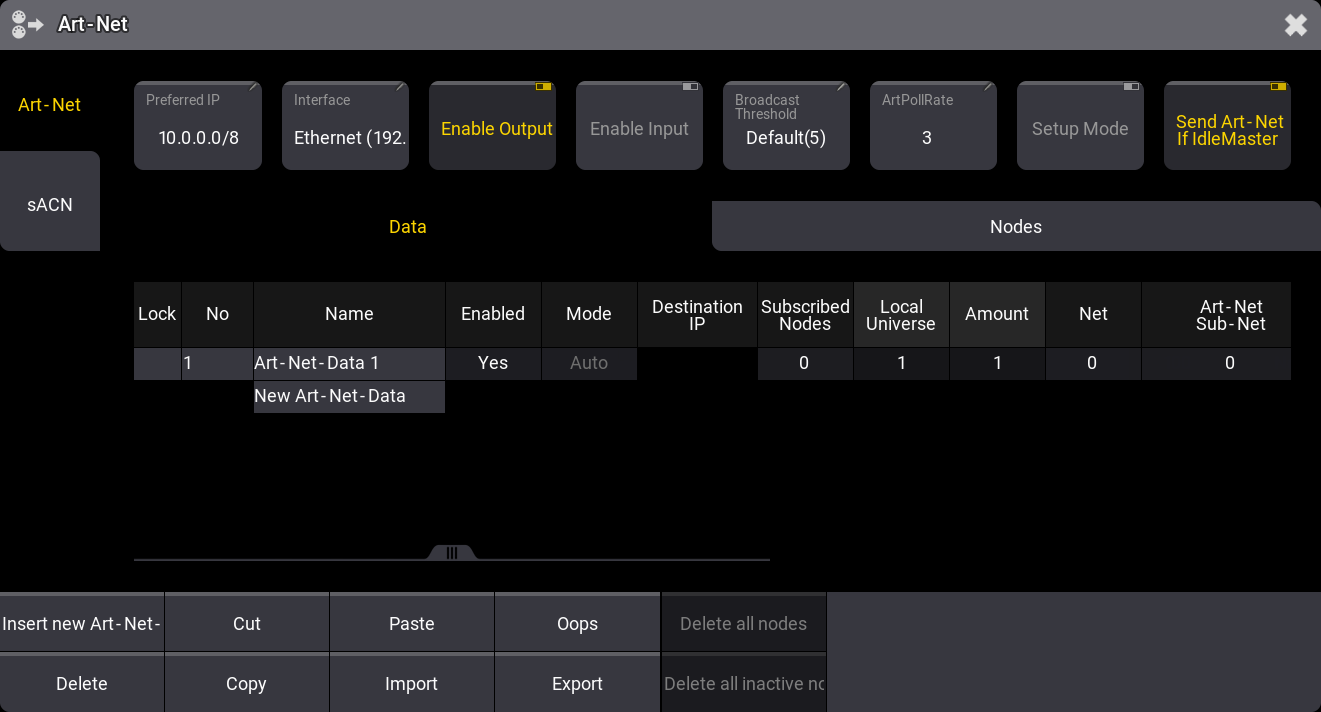 It is outside the scope of this Quick Starts Guide to describe this in detail. There is a link below.
But generally, you can set up the grandMA3 system to output any combination of universes. Then you will need a DMX node from any manufacturer that can understand Art-Net or sACN.
---
Recap
In this chapter, we looked at what is needed to output DMX. A session, unlocked parameters, grandMA3 DMX ports, or DMX via a network.
Learn more about unlocking parameters in the Parameters topic and the sub-topics.
You can see the grandMA3 hardware lineup on MA Lightings website.
The Network menu is described in detail in the Networking section.
Details about setting up output from the grandMA3 hardware can be found in the DMX Port Configuration topic.
Outputting DMX via the network is described in the Ethernet DMX and its sub-topics.
---
Finally
This is the end of the Quick Start Guide. Thank you for reading it. I hope you have enjoyed it and learned something.
We did not create the best show ever, but that was not really the goal. The goal was to introduce you to some of the many features and functions of the software.
The manual is a great resource to get detailed information about grandMA3. There are also the release notes with each new release to keep you updated on changes.
If you want to learn more, then there is online E-learning and in-classroom learning - see more on MA Lightings website.
I also want to mention the official forum. It is a great resource for getting help from other users and professionals.
There are also a lot of different videos online - both official and unofficial that provide great insight and information about grandMA3.
Happy Programming