grandMA3 User Manual

About the manual
Device Overview

grandMA3 consoles

grandMA3 full-size
grandMA3 full-size CRV
grandMA3 light
grandMA3 light CRV
grandMA3 compact XT
grandMA3 compact

grandMA3 extension
grandMA3 replay unit
grandMA3 processing units
grandMA3 Nodes
grandMA3 Nodes DIN-Rail
grandMA3 I/O Node
grandMA3 I/O Node DIN-Rail
grandMA3 onPC command wing XT
grandMA3 onPC command wing
grandMA3 onPC fader wing
grandMA3 onPC rack-unit
Screen allocation
Keyboard shortcuts
Keys

. [Dot]
<<< [GoFastBackward] | Black
>>> [GoFastForward] | Flash
- [Minus]
+ [Plus]
/ [Slash] | * [Asterisk/Multiply]
At
Assign
Align
Blind
Clear
Channel
Copy
Ctrl
Cue
Down
Delete
Esc
Edit
Freeze
Full
Fixture
Group
Goto
Go+ [large]
Go- [large]
Go+ | Temp
Go- | Top
Help
Highlt [Highlight]
If
Learn | Rate1
List
MA
Menu
Move
Next
Numeric keys | arrows
Oops
On
Off
Pause [large]
Pause | Fix
Page+
Page-
Please
Power
Preset
Prvw [Preview]
Prev [Previous]
Select
SelFix [SelectFixture]
Sequ [Sequence]
Set
Solo
Stomp
Store
Thru
Time
Up
Update
U1
U2
X1 | Clone
X2 | Link
X3 | Grid
X4 | Layout
X5 | Step
X6 | TC
X7 | View
X8 | DMX
X9
X10
X11
X12
X13 | Phaser
X14 | Macro
X15 | Page
X16 | Exec
Xkeys

Control elements

Command area
Master area
Custom area
Dual encoders
Level wheel
Grand master
Executor elements

Connector pin assignment

System Overview

Standalone device
Locally networked devices
World server
Parameters

Calculate parameters
Expand the amount of parameters

First Steps

Unpack the device
Check scope of delivery
Position the device
Connect power
Connect desk light
Connect external screens
Connect USB devices
Connect DMX
Connect Audio In
Connect MIDI
Connect LTC
Connect Ethernet
Connect DC Remote In
Connect grandMA3 extension
Connect grandMA3 fader wing
Turn on the device the first time

grandMA3 onPC

System requirements grandMA3 onPC
Windows installation
Optimize Windows
macOS installation
Optimize macOS
onPC Terminal App
onPC settings

Show File Handling
Workspace

User interface

Configuration of displays
Desk lock
User-defined area
Command line
Control bar
View bar
Tables in general
Trackpad window

Gestures
Command area
Master controls
Playback controls
Displays in grandMA3 onPC
Encoder bar

Feature group control bar
Encoder toolbar

Calculator
Playback bar
Command wing bar
Colors

System
Markers
Color theme

Command Syntax and Keywords

General syntax rules
General keywords

; [Semicolon]
/ [Slash]
. [Dot]
.. [DotDot]
= [Equal]
<<< [GoFastBackward]
>>> [GoFastForward]
- [Minus]
* [Asterisk]
% [Percent]
+ [Plus]
Absolute
Acceleration
Action
ActivationGroup
Agenda
Align
AlignTransition
Appearance
Assign
At
Attribute
AutoCreate
Black
Blind
Block
BPM
Call
Camera
Capture
Certificate
ChangeDestination
Channel
ChannelSet
Chat
Cleanup
Clear
ClearActive
ClearAll
ClearSelection
Clone
CmdDelay
Collect
Collection
ColorTheme
Configuration
Console
Cook
Copy
Cue
CueAbs
CueDelay
CueFade
CueInDelay
CueInFade
CueOutDelay
CueOutFade
CueRel
CueUpdate
CurrentUser
CurrentUserProfile
Cut
DataPool
Deceleration
Decimal8
Decimal16
Decimal24
Default
Delay
Delete
DeleteOtherVersions
DelGlobalVar
DelUserVar
Dismiss
Display
DMXLayer
DMXAddress
DMXReadout
DMXUniverse
Down
DumpLog
Drive
Echo
Edit
EditSetting
Eject
Effect
EndIf
Exchange
Executor
Export
Extract
Extension
Fade
Fader
FaderHighlight
FaderLowlight
FaderMaster
FaderRate
FaderSolo
FaderSpeed
FaderTemp
FaderTime
FaderX
FaderXA
FaderXB
FeatureGroup
Filter
Fix
FixtureClass
FixtureLayer
Fixture
FixtureType
Flip
Flash
Fog
Font
Freeze
Full
Gel
GetGlobalVar
GetUserVar
Universal
Go+
GoStep
Go-
Goto
Grid
Group
HardwareKey
Help
Helplua
Hex8
Hex16
Hex24
Highlight
Houselights
Hz
If
IfActive
IfOutput
IfProg
Image
Import
Index
Insert
Integrate
Interface
Invert
Invite
IP
JoinSession
Key
Keyboard
KeyboardShortcuts
Knockin
Knockout
Label
Language
Layout
LearnRate
LearnSpeed
LeaveSession
Library
List
ListOwner
ListRef
Load
Loaded
LoadShow
Lock
Login
Logout
Lowlight
Lua
LuaFile
Macro
MArker
Master
MAtricks
Measure
Media
MemInfo
Menu
Mesh3DS
MessageCenter
Monitor
Move
MyRunningMacro
MyRunningSequence
NewShow
NextY
NextZ
Next
Node
NonDim
Normal
Off
Offset
On
OnPC
OSC
Oops
OutputLayer
Page
Part
Park
Paste
Patch
Pause
Percent
PercentFine
Phase
Physical
Plugin
Preset
PresetUpdate
Press
Preview
PreviousY
PreviousZ
Previous
Programmer
Property
PU
Pyro
Rate1
Readout
Reboot
Recast
Relation
Relative
Release
ReloadPlugins
ReloadUI
Remote
RemoteHID
RemoteCommand
Remove
Reset
Restart
Root
RTChannel
RunningMacro
RunningSequence
RunningTimecode
SaveShow
ScreenConfig
ScreenContent
Scribble
Seconds
Select
Selection
SelFix
Sequence
SendMIDI
SendOSC
Set
SetGlobalVar
SetUserVar
Shuffle
Shutdown
SnapDelay
SoftwareImport
SoftwareUpdate
SoundChannel
Solo
SpecialExecutor
Speed
Speed1
Stage
Station
Step
Stomp
SwitchGma2Mode
Store
Temp
Texture
Thru
Time
Timecode
TimecodeSlot
Toggle
TopUp
Top
Transition
Type
UIChannel
UiGridSelection
Unblock
Unlock
Unpark
Unpress
Up
Update
UpdateContent
User1
User2
User
UserProfile
Video
Version
View
ViewButton
Width
World
Xkeys
Zero

Option keywords

/Active
/ActiveForSelected
/AddNewContent
/All
/CreateSecondCue
/Merge
/NoConfirm
/OriginalContentOnly
/Overwrite
/Remove
/Screen

Extended command line syntax options

Windows, Views, and Menus

Add window
Rearrange
Store and recall views
Remove windows from a screen
Window settings
Menus
Change menu locations
Pool windows

Create pool object
Label pool objects
Move pool objects
Insert pool objects
Copy pool objects
Lock and unlock pool objects
Delete pool objects

Networking

Interfaces and IP
Session

Create a session
Join a session
Leave a session
Invite to a session
Dismiss from session
Create a custom key

Web remote
SFTP connection

DMX In and Out

DMX port configuration
Ethernet DMX

Art-Net menu
sACN menu
Transmit DMX using Art-Net

Single User and Multi User Systems

Create User
User settings

Patch and Fixture Setup

What are fixtures
Add fixtures to the show
MVR
Live patch
DMX sheet
DMX universes
Remove fixtures from the show
Position fixtures in the 3D space
3D
Camera Pool
Stages
Classes and Layers
Attribute definitions

Activation group
Feature group
Deactivation group

Parameter list
DMX curves

Operate Fixtures

Select Fixtures
What is the programmer
Fixture sheet
Encoder resolution
Using the color picker
Selection bar
Align
Selection Grid
Smart view

Scribbles

Create scribbles
Edit scribbles
Assign scribbles
Delete scribbles

Images
Video
Appearances

Create appearances
Use appearances
Delete appearances

Groups

Create groups
Edit groups
Delete groups
Group masters

Presets

Preset pools
Create new presets
Recipe presets
Use preset
Edit or Update presets

Worlds and Filters

At filter
Create a world
Create a filter
Use a world or filter
Delete a world
Delete a filter

MAtricks and Shuffle

Blocks
Groups
Wings
Widths
Shuffle

Cues and Sequences

What is tracking
Look at cues and sequences
Content sheet
Sequence settings
Store cues
Update cues
Copy cues
Cue recipes
Store settings and preferences
Play back cues
Move in black
Cue timing
Renumber cues
Delete cues

Executors

Assign object to an executor
Executor configurations
Running playbacks
Special executors

Masters

Selected masters
Grand masters
Speed masters
Playback masters

Recipes
Phasers

Phaser editor
Create sinus dimmer phaser
Create circle phaser
Create circle phaser around position
Create color rainbow phaser

XYZ

Activating XYZ for fixture types
MArker fixture

Macros

Create macros
Edit macros
Assign macros to keys and buttons
Examples

Agenda

View modes
Create an agenda entry
Edit an agenda entry
Agenda toolbar

Timecode

What are timecode slots
Timecode settings
Track groups
Time ranges and events
Toggle view mode
Record a timecode show
Record an external timecode show
Edit a timecode show

Layouts

Create a layout
Edit layout
Layout view settings
Edit layout view
Edit layout elements
Layout encoder bar

Plugins

What is Lua?
Lua function list
Lua functions

Object-Free API

BuildDetails
Cmd
CmdIndirect
CmdIndirectWait
CmdObj
Confirm
DataPool
DefaultDisplayPositions
Echo
ErrPrintf
ErrEcho
Export
GetPath
GetShowFileStatus
GetSubfixture
GetSubfixtureCount
HookObjectChange
HostOS
HostSubType
HostType
Import
MasterPool
MessageBox
ObjectList
Patch
PopupInput
Printf
ProgrammerPart
ProgressBar
Pult
SelectedSequence
Selection
SelectionCount
SelectionFirst
SelectionNext
SerialNumber
ShowData
ShowSettings
TextInput
Timer
UserVariables
Version

Object API

Children
Dump
Export
HasActivePlayback
Import
ToAddr

Data Pools
System

Date and time
Clock
Desk lights
System information
System monitor
Info Window

Sound
Remote In and Out

DC remotes
MIDI remotes
DMX remotes
OSC
PSN

RDM
Control other MA Devices

grandMA3 Nodes
MA Network Switch
RemoteHID

Update the Software

Update grandMA3 consoles
Update grandMA3 Nodes
Update grandMA3 onPC windows hardware
Update grandMA3 viz-key
Network update
Delete update files
Troubleshooting

Fixture Types

Import fixture types
Build fixture types

Insert fixture types
Insert DMX modes
Insert geometries
Insert models
Link models to geometries
Link DMX modes to geometries

Export fixture types

File Management

Import / Export Menu
Folder Structure

Shut down the System
Troubleshooting

grandMA3 Quick Start Guide
grandMA3 Quick Manual consoles
grandMA3 Quick Manual processing units
grandMA3 Quick Manual Nodes
grandMA3 Quick Manual Nodes DIN-Rail
grandMA3 Quick Manual onPC command wing XT
grandMA3 Quick Manual onPC command wing
grandMA3 Quick Manual onPC fader wing
grandMA3 Quick Manual onPC rack-unit
grandMA3 Quick Manual viz-key
grandMA3 Quick Manual I/O Nodes
Release Notes
Windows installation
Table of contents of this topic
To run the grandMA3 onPC software, copy and install the program files on your PC.
The installation is possible in every root directory or in the standard directory "C:\Program Files\MALightingTechnology".
To download the grandMA3 software:
Go to www.malighting.com, click Downloads.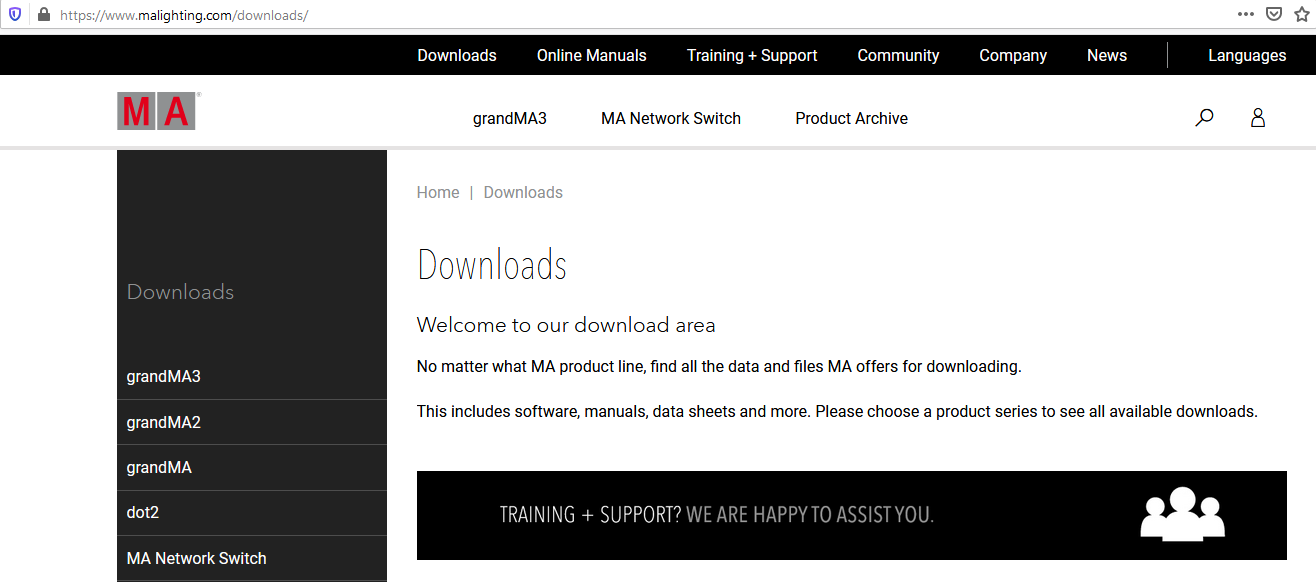 Click grandMA3 in the bar on the left.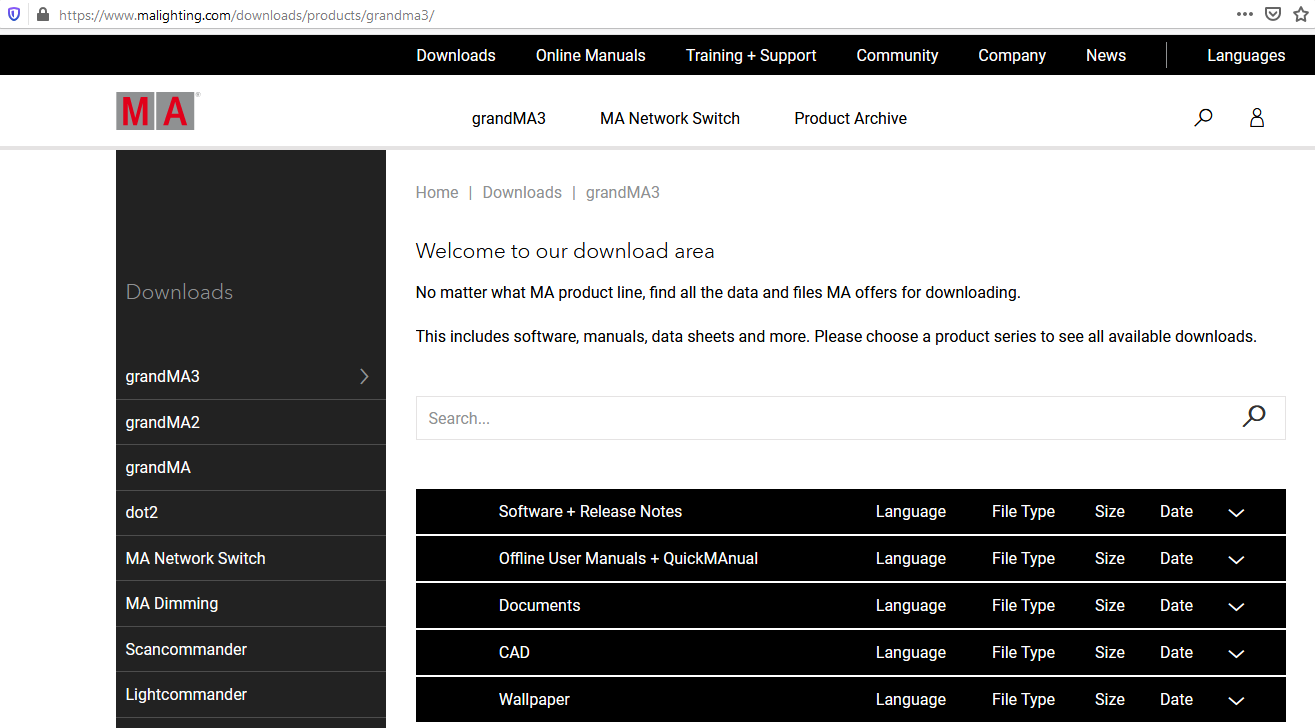 Click Software + Release Notes to find the latest software version.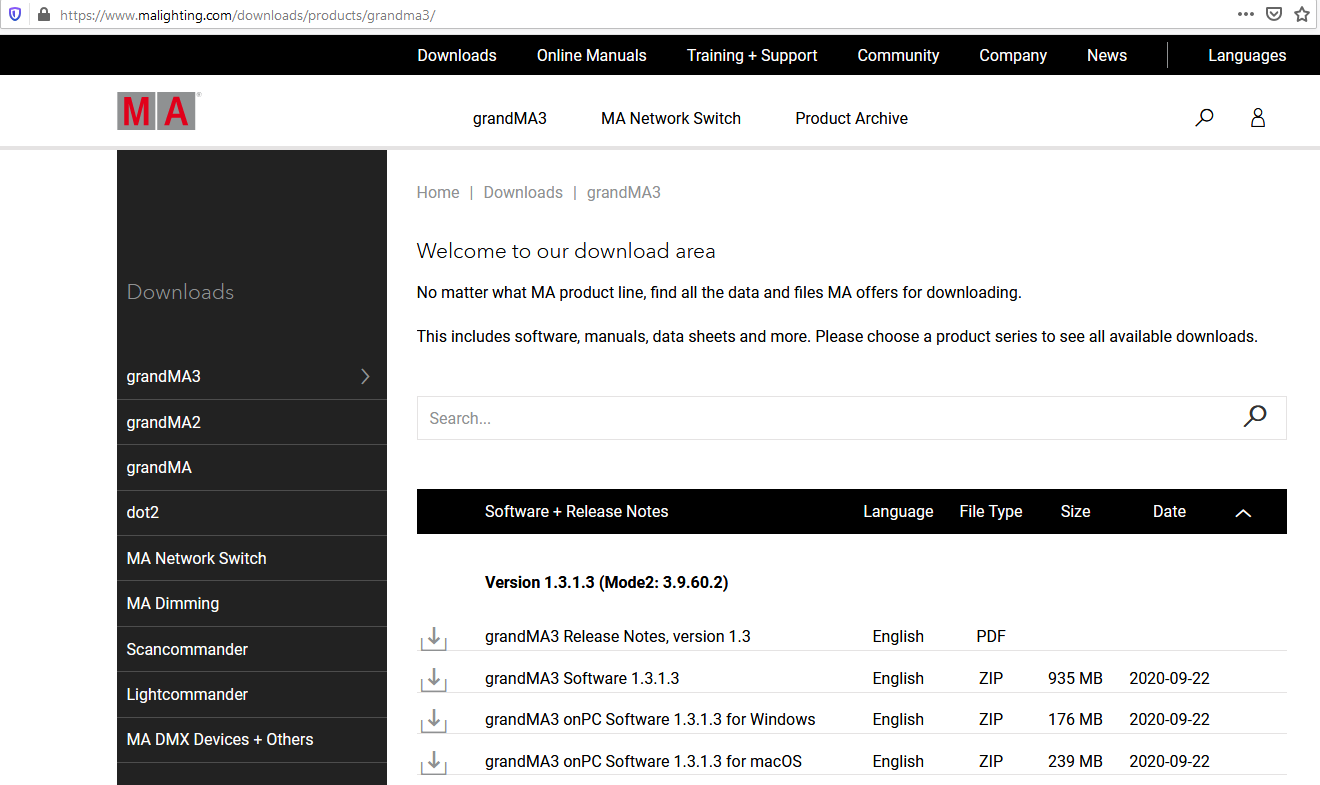 Click grandMA3 onPC Software x.x.x.x for Windows to download the desired installation package.
The download process starts.
To open the zip file, double-click it.
Go to the subfolder "ma".
Double-click the installation program grandMA3_onPC-vx.x.x.x.exe.
Confirm with Execute.
The installation program opens: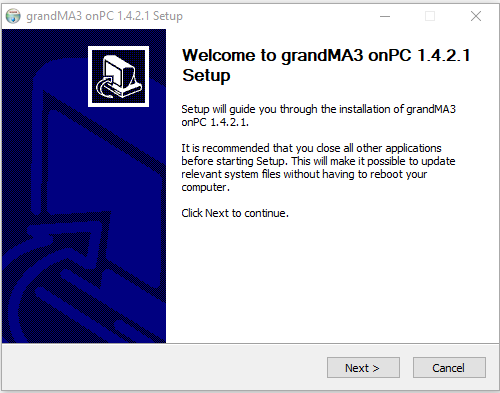 Click

Next

. The End User License Agreement (EULA) appears: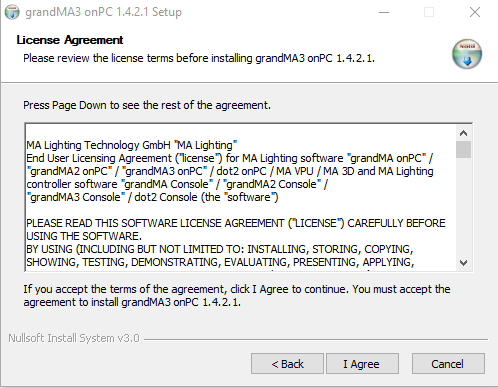 Click

I Agree

to accept the agreement.
The Install Location window appears: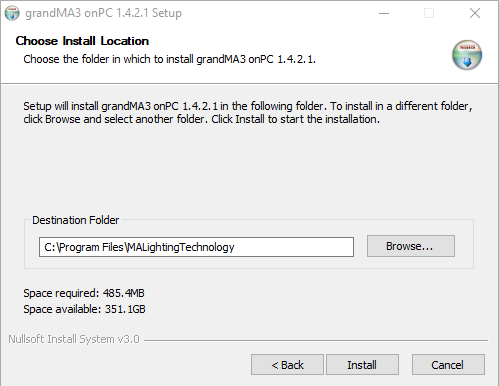 Watch out for the suggested directory and change it if you would like to do so.
The standard directory for the resources and user files is "C:\Program Files\MALightingTechnology".
To learn more about the folder structure, read the Folder Structure topic in File Management.
To confirm the installation directory, click Install.
The program files are copied into the selected directory.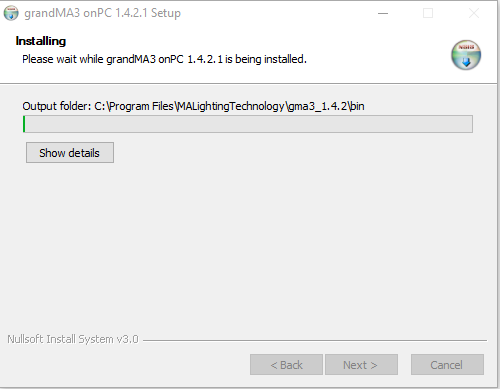 Click Next to finish the installation.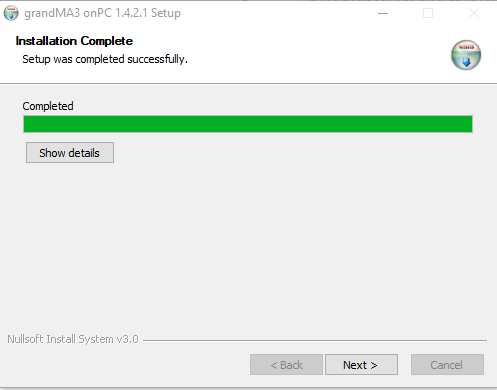 At the end of the installation process, you can choose to set a link to the terminal app or not.
It is disabled by default.
Click the checkbox if you want to create a desktop link to the terminal app.

grandMA3 onPC for Windows
As soon as the installation is finished, the MA icon appears on the desktop.
If several versions of the software have been installed, several subfolders are created in the main folder "C:\ProgramData\MALightingTechnology".
The MA icon on the desktop will always link to the latest version: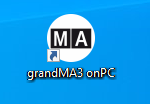 This is the main app.
MA Lighting Forum
The MA Lighting Forum opens in the browser: