grandMA3 User Manual
grandMA3 Quick Start Guide
grandMA3 Quick Manual consoles

Intended Use
Safety
Support
Transport
Limitations
Quick Start
Maintenance
Disposal
Technical Data
Hardware-related Instances
Conformity

grandMA3 Quick Manual processing units
grandMA3 Quick Manual Nodes
grandMA3 Quick Manual Nodes DIN-Rail
grandMA3 Quick Manual onPC command wing XT
grandMA3 Quick Manual onPC command wing
grandMA3 Quick Manual onPC fader wing
grandMA3 Quick Manual onPC rack-unit
grandMA3 Quick Manual viz-key
grandMA3 Quick Manual I/O Nodes
Release Notes
Technical Data
Important:
The grandMA3 full-size, grandMA3 light and their CRV versions have a built-in uninterruptible power supply (UPS). For more information on UPS see
Safety
.
Important:
Only use adequately protected power cables (min. Ø = 3 x 1.0 mm²).
The required power cable must meet the country's standards.
Only qualified personnel is allowed to perform work on the power cable!
Only use monitors with a native DisplayPort connector. Do not use adapters, for example DP to VGA or similar.
Important:
Power cable and connector are not included in the delivery.
DMX: max. length of the cable 350 m (in ideal conditions).
Use CAT-5e Ethernet cable or higher. Max. length of the cable 75 m.
grandMA3 full-size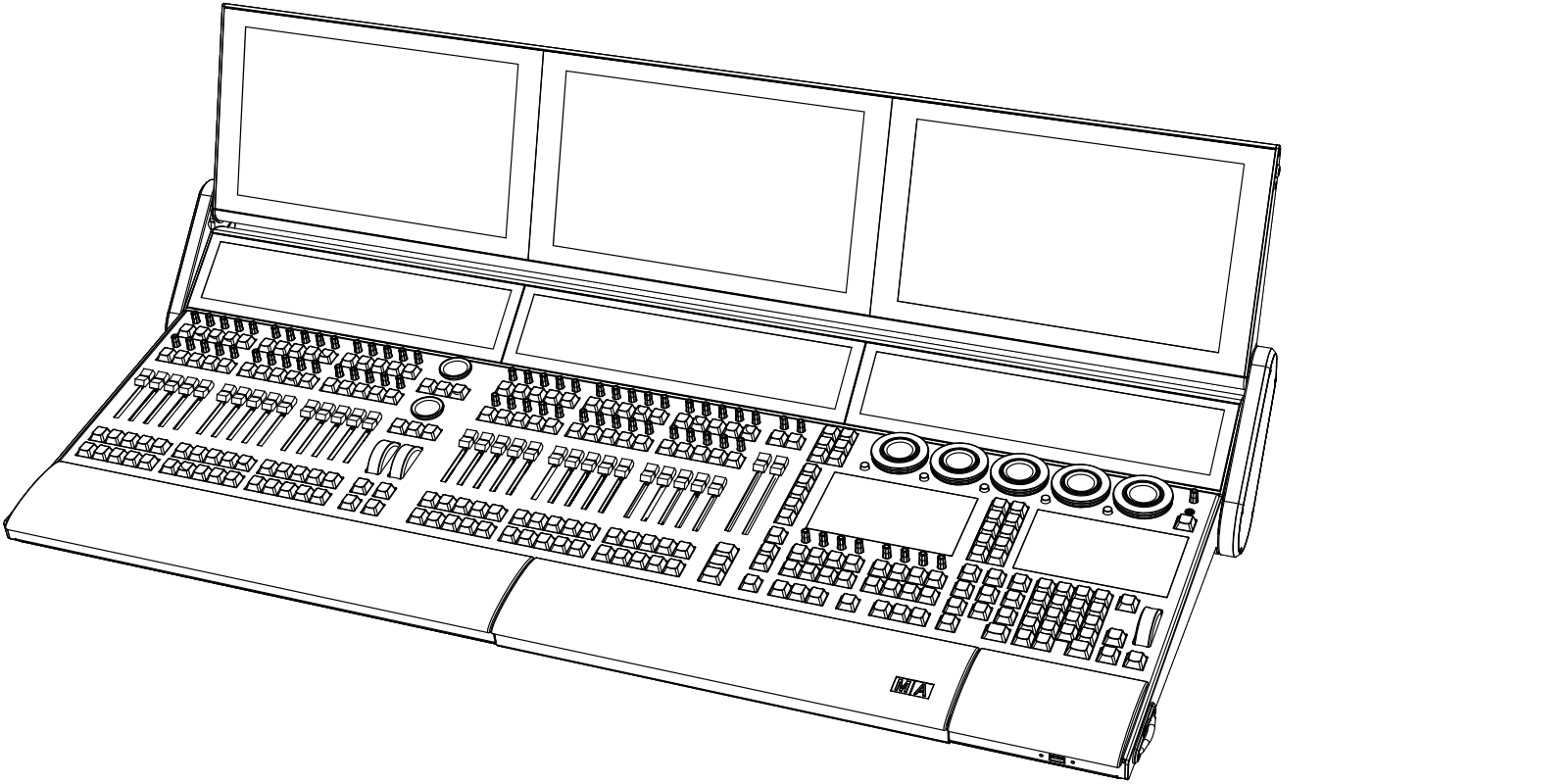 | Technical Data | |
| --- | --- |
| Parameters | 20 480 |
| Operating voltage | 100-240 V AC, 50/60 Hz |
| Net weight | 44 kg / 98 lbs |
| Power | max. 300 VA |
| Dimensions (folded and closed keyboard drawer) | 1 256 x 539 x 181 mm / 50 x 22 x 8 in (width x depth x height) |
| Dimensions (unfolded for operation) | 1 256 x 584 x 409 (max. 450) mm / 50 x 23 x 17 (max. 18) in (width x depth x height) |
| Dimensions (maximally unfolded and opened keyboard drawer) | 1 256 x 871 x 255 mm / 50 x 35 x 10 in (width x depth x height) |
Outputs grandMA3 full-size

| Number | Connector |
| --- | --- |
| 1 x | powerCON TRUE1* |
| 3 x | etherCON/RJ45 |
| 6 x | DMX512-A Out (5pin XLR female) |
| 1 x | DMX512-A In (5pin XLR male) |
| 1 x | MIDI In (5pin DIN female) |
| 1 x | MIDI Out (5pin DIN female) |
| 1 x | LTC – Linear Time Code (3pin XLR female) |
| 1 x | Audio In (3pin XLR female) |
| 1 x | GPI – General Purpose Input (D-SUB DE9 female – remote control) |
| 2 x | DisplayPort 1.2 (external screens) |
| 2 x | S/PDIF In and Out |
| 3 x | USB 2.0 (type A) max. 500 mA |
| 3 x | USB 3.0 (type A) (2 on the front panel) max. 900 mA |
| 2 x | Desk light (4pin XLR female) |
*registered trademark of Neutrik AG, Liechtenstein
grandMA3 full-size CRV

| Technical Data | |
| --- | --- |
| Parameters | 20 480 |
| Operating voltage | 100-240 V AC, 50/60 Hz |
| Net weight | 33 kg / 73 lbs |
| Power | max. 300 VA |
| Dimensions (closed keyboard drawer) | 1 213 x 539 x 169 mm / 48 x 22 x 7 in (width x depth x height) |
| Dimensions (opened keyboard drawer) | 1 213 x 644 x 169 mm / 48 x 26 x 7 in (width x depth x height) |
Outputs grandMA3 full-size CRV

| Number | Connector |
| --- | --- |
| 1 x | powerCON TRUE1* |
| 3 x | etherCON/RJ45 |
| 6 x | DMX512-A Out (5pin XLR female) |
| 1 x | DMX512-A In (5pin XLR male) |
| 1 x | MIDI In (5pin DIN female) |
| 1 x | MIDI Out (5pin DIN female) |
| 1 x | LTC – Linear Time Code (3pin XLR female) |
| 1 x | Audio In (3pin XLR female) |
| 1 x | GPI – General Purpose Input (D-SUB DE9 female – remote control) |
| 5 x | DisplayPort 1.2 (external screens) |
| 2 x | S/PDIF In and Out |
| 3 x | USB 2.0 (type A) max. 500 mA |
| 3 x | USB 3.0 (type A) (2 on the front panel) max. 900 mA |
| 2 x | Desk light (4pin XLR female) |
*registered Trademark of Neutrik AG, Liechtenstein
grandMA3 light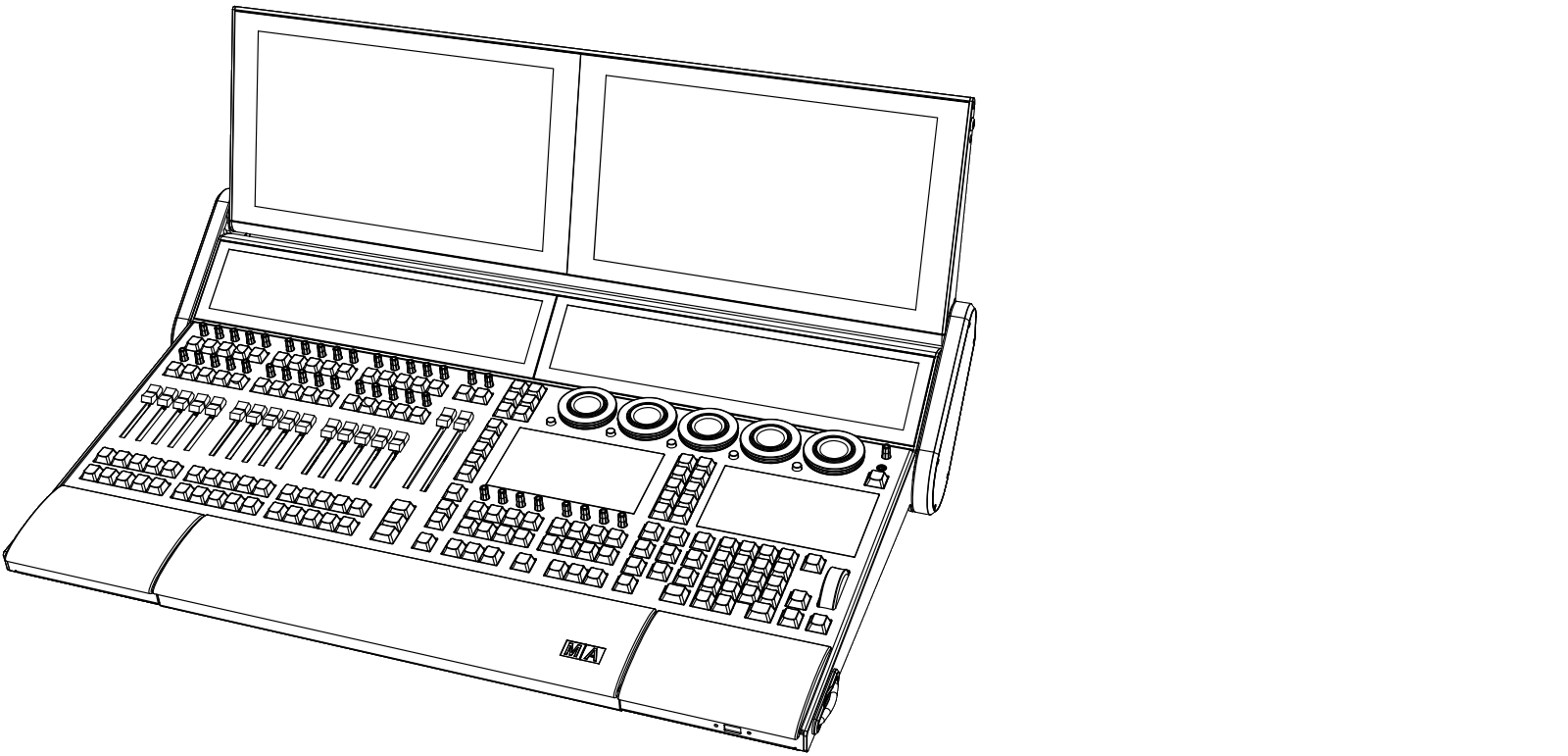 | Technical Data | |
| --- | --- |
| Parameters | 16 384 |
| Operating voltage | 100-240 V AC, 50/60 Hz |
| Net weight | 33 kg / 73 lbs |
| Power | max. 300 VA |
| Dimensions (folded and closed keyboard drawer) | 854 x 539 x 181 mm / 34 x 22 x 8 in (width x depth x height) |
| Dimensions (unfolded for operation) | 854 x 584 x 409 (max. 450) mm / 34 x 23 x 17 (max. 18) in (width x depth x height) |
| Dimensions (maximally unfolded and opened keyboard drawer) | 854 x 871 x 255 mm / 34 x 35 x 10 in (width x depth x height) |
Outputs grandMA3 light

| Number | Connector |
| --- | --- |
| 1 x | powerCON TRUE1* |
| 3 x | etherCON/RJ45 |
| 6 x | DMX-512-A Out (5pin XLR female) |
| 1 x | DMX-512-A In (5pin XLR male) |
| 1 x | MIDI In (5pin DIN female) |
| 1 x | MIDI Out (5pin DIN female) |
| 1 x | LTC – Linear Time Code (3pin XLR female) |
| 1 x | Audio In (3pin XLR female) |
| 1 x | GPI – General Purpose Input (D-SUB DE9 female – remote control) |
| 2 x | DisplayPort 1.2 (external screens) |
| 2 x | S/PDIF In and Out |
| 3 x | USB 2.0 (type A) max. 500 mA |
| 3 x | USB 3.0 (type A) (2 on the front panel) max. 900 mA |
| 2 x | Desk light (4pin XLR female) |
*registered Trademark of Neutrik AG, Liechtenstein
grandMA3 light CRV

| Technical Data | |
| --- | --- |
| Parameters | 16 384 |
| Operating voltage | 100-240 V AC, 50/60 Hz |
| Net weight | 25 kg / 56 lbs |
| Power | max. 300 VA |
| Dimensions (closed keyboard drawer) | 811 x 539 x 169 mm / 32 x 22 x 7 in (width x depth x height) |
| Dimensions (opened keyboard drawer) | 811 x 644 x 169 mm / 32 x 26 x 7 in (width x depth x height) |
Outputs grandMA3 light CRV

| Number | Connector |
| --- | --- |
| 1 x | powerCON TRUE1* |
| 3 x | etherCON/RJ45 |
| 6 x | DMX-512-A Out (5pin XLR female) |
| 1 x | DMX-512-A In (5pin XLR male) |
| 1 x | MIDI In (5pin DIN female) |
| 1 x | MIDI Out (5pin DIN female) |
| 1 x | LTC – Linear Time Code (3pin XLR female) |
| 1 x | Audio In (3pin XLR female) |
| 1 x | GPI – General Purpose Input (D-SUB DE9 female – remote control) |
| 4 x | DisplayPort 1.2 (external screens) |
| 2 x | S/PDIF In and Out |
| 3 x | USB 2.0 (type A) max. 500 mA |
| 3 x | USB 3.0 (type A) (2 on the front panel) max. 900 mA |
| 2 x | Desk light (4pin XLR female) |
*registered Trademark of Neutrik AG, Liechtenstein
grandMA3 compact XT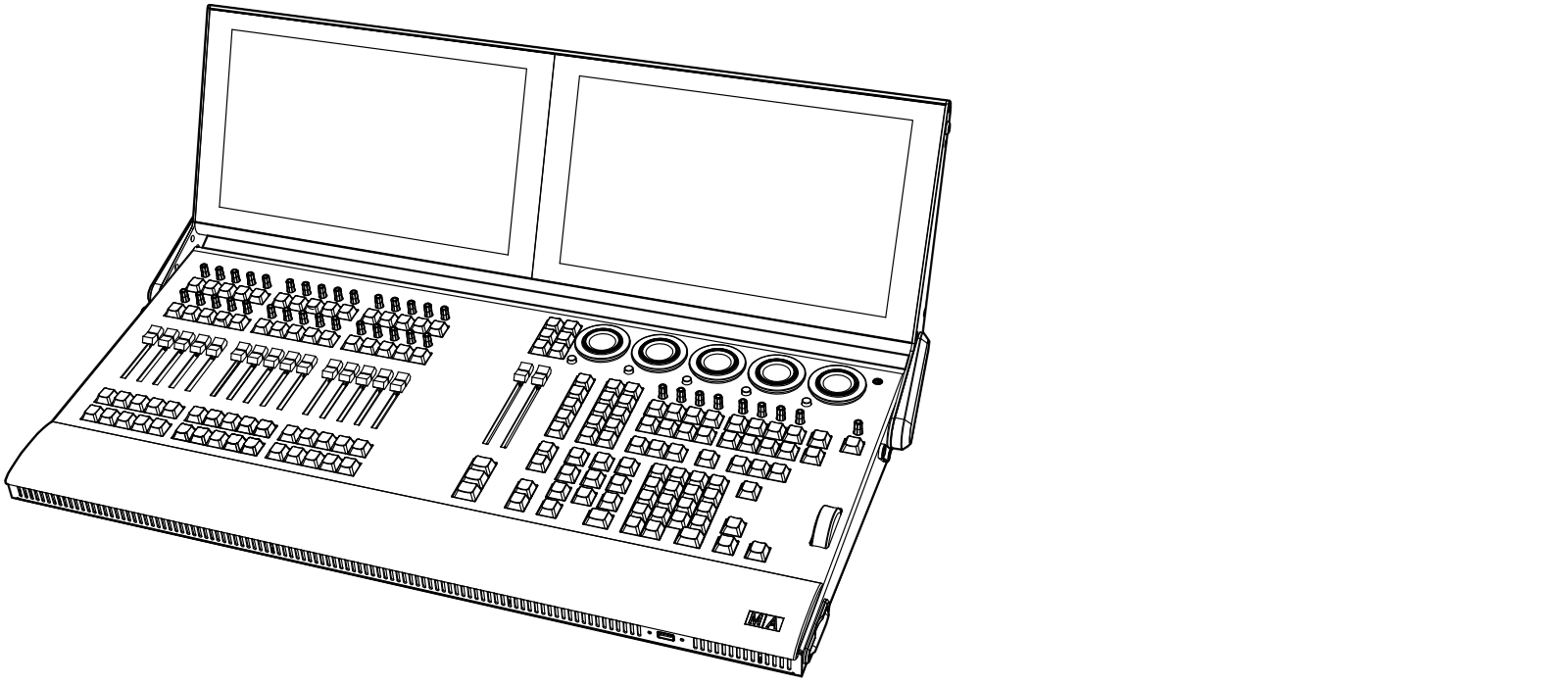 | Technical Data | |
| --- | --- |
| Parameters | 8 192 |
| Operating voltage | 100-240 V AC, 50/60 Hz |
| Net weight | 20 kg / 45 lbs |
| Power | max. 250 VA |
| Dimensions (folded) | 845 x 429 x 160 mm / 34 x 17 x 7 in (width x depth x height) |
| Dimensions (unfolded) | 845 x 563 x 325 (max. 410) mm / 34 x 23 x 13 (max. 17) in (width x depth x height) |
Outputs grandMA3 compact XT

| Number | Connector |
| --- | --- |
| 1 x | powerCON TRUE1* |
| 3 x | etherCON/RJ45 |
| 6 x | DMX-512-A Out (5pin XLR female) |
| 1 x | DMX-512-A In (5pin XLR male) |
| 1 x | MIDI In (5pin DIN female) |
| 1 x | MIDI Out (5pin DIN female) |
| 1 x | LTC – Linear Time Code (3pin XLR female) |
| 1 x | Audio In (3pin XLR female) |
| 1 x | GPI – General Purpose Input (D-SUB DE9 female – remote control) |
| 1 x | DisplayPort 1.2 (external screen) |
| 2 x | S/PDIF In and Out |
| 3 x | USB 2.0 (type A) max. 500 mA |
| 2 x | USB 3.0 (type A) (1 on the front panel) max. 900 mA |
| 1 x | Desk light (4pin XLR female) |
*registered Trademark of Neutrik AG, Liechtenstein
grandMA3 compact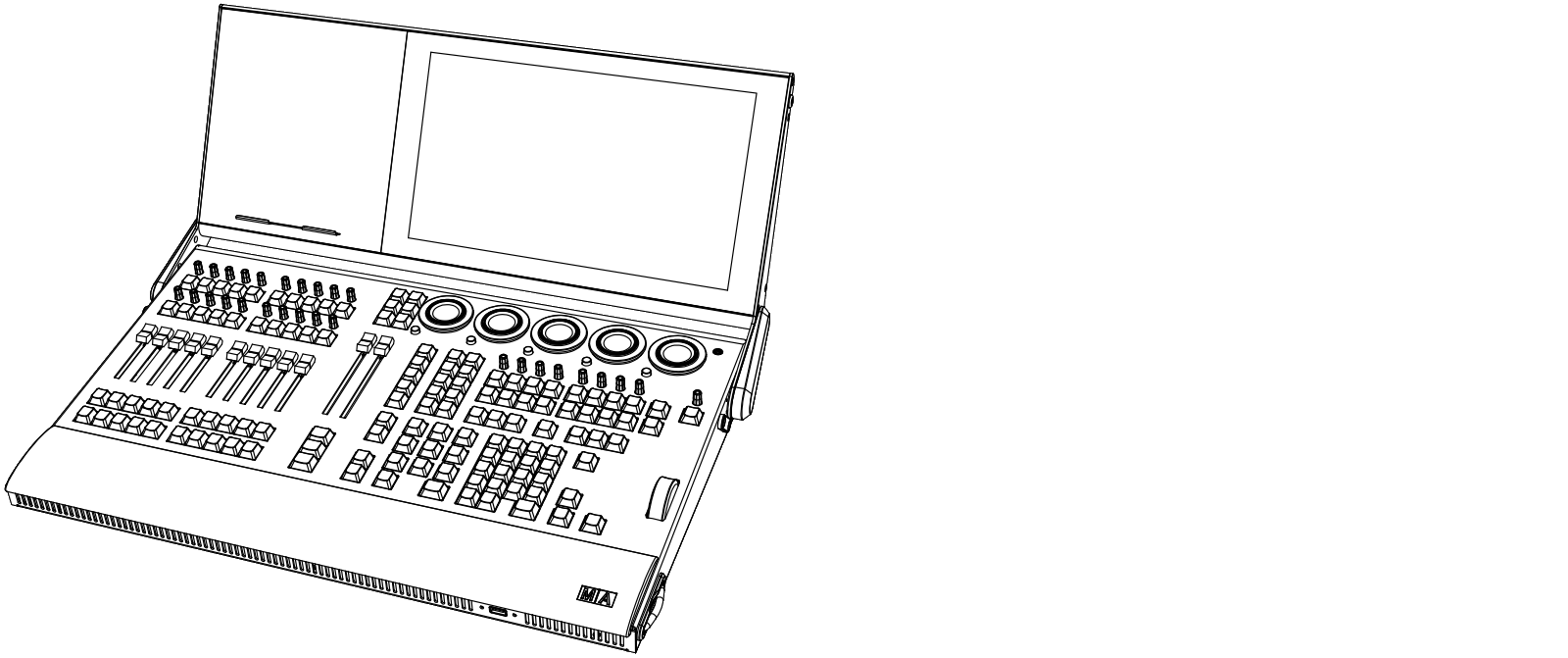 | Technical Data | |
| --- | --- |
| Parameters | 8 192 |
| Operating voltage | 100-240 V AC, 50/60 Hz |
| Net weight | 16 kg / 36 lbs |
| Power | max. 250 VA |
| Dimensions (folded) | 661 x 429 x 160 mm / 26 x 17 x 7 in (width x depth x height) |
| Dimensions (unfolded) | 661 x 563 x 325 (max. 410) mm / 26 x 23 x 13 (max. 17) in (width x depth x height) |
Outputs grandMA3 compact

| Number | Connector |
| --- | --- |
| 1 x | powerCON TRUE1* |
| 3 x | etherCON/RJ45 |
| 6 x | DMX-512-A Out (5pin XLR female) |
| 1 x | DMX-512-A In (5pin XLR male) |
| 1 x | MIDI In (5pin DIN female) |
| 1 x | MIDI Out (5pin DIN female) |
| 1 x | LTC – Linear Time Code (3pin XLR female) |
| 1 x | Audio In (3pin XLR female) |
| 1 x | GPI – General Purpose Input (D-SUB DE9 female – remote control) |
| 1 x | DisplayPort 1.2 (external screen) |
| 2 x | S/PDIF In and Out |
| 3 x | USB 2.0 (type A) max. 500 mA |
| 2 x | USB 3.0 (type A) (1 on the front panel) max. 900 mA |
| 1 x | Desk light (4pin XLR female) |
*registered Trademark of Neutrik AG, Liechtenstein
grandMA3 replay unit

| Technical Data | |
| --- | --- |
| Parameters | 8 192 |
| Operating voltage | 100-240 V AC, 50/60 Hz |
| Net weight | 6 kg / 14 lbs |
| Power | max. 200 VA |
| Dimensions | 482 x 372 x 87 mm / 19 x 15 x 4 in (width x depth x height) |
Outputs grandMA3 replay unit

| Number | Connector |
| --- | --- |
| 1 x | powerCON TRUE1* |
| 3 x | etherCON/RJ45 |
| 6 x | DMX512-A Out (5pin XLR female) |
| 1 x | DMX512-A In (5pin XLR male) |
| 1 x | MIDI In (5pin DIN female) |
| 1 x | MIDI Out (5pin DIN female) |
| 1 x | LTC – Linear Time Code (3pin XLR female) |
| 1 x | Audio In (3pin XLR female) |
| 1 x | GPI – General Purpose Input (D-SUB DE9 female – remote control) |
| 2 x | DisplayPort 1.2 (external screens) |
| 2 x | S/PDIF In and Out |
| 5 x | USB 2.0 (type A) (2 on the front panel) max. 500 mA |
*registered Trademark of Neutrik AG, Liechtenstein
grandMA3 extension

| Technical Data | |
| --- | --- |
| Parameters | None |
| Operating voltage | 100-240 V AC, 50/60 Hz |
| Net weight | 11 kg / 25 lbs |
| Power | max. 75 VA |
| Dimensions | 409 x 537 x 169 mm / 17 x 22 x 7 in (width x depth x height) |
Outputs grandMA3 extension

| Number | Connector |
| --- | --- |
| 1 x | powerCON TRUE1* |
| 1 x | etherCON/RJ45 |
| 1 x | Desk light (4pin XLR female) |
*registered Trademark of Neutrik AG, Liechtenstein