grandMA2
grandMA3 Mode2

Mode2
Screen Layout

Screen 1
Screen 2
Screen 3
External screens
Command screens
Letterbox screens

Update grandMA3 Consoles
Update grandMA3 xPort Nodes
grandMA3 Settings
Version Specification

grandMA2 Quick Start Guide
grandMA2 Quick Manual onPC solutions
MA 3D
MA VPU
Release Notes
There's no German translation of this page yet, so the English version is shown.
Update grandMA3 Consoles
Important:
We currently recommend to use the grandMA3 console in Mode2.
Insert the USB flash drive into your PC.
Open it.
Extract the entire data from the zip. file onto the USB flash drive.
The folders EFI, ma, and other data included are extracted.
Important:
- The folders EFI, ma, and other data included have to be directly accessible on the flash drive and must not be located in an extra folder.
- The USB flash drive's data system has to be FAT32.
Insert the USB flash drive containing the unzipped files into the console.
Press the power button.
Press the key

8/F8

on the integrated or the external keyboard several times.
Boot Manager opens.
Scroll down to EFI USB Device 'name of USB flash drive' using the arrow keys.
Press

Please

.
The console starts to boot.
Important:
If the USB flash drive contains more than 1 version, select the version you would like to install first.
Install Selector dialog appears.

Select one of the options.
Press

Please

.
Wait for completion.
The grandMA3 console starts to reboot.
Remove the USB flash drive.
The Mode Selection dialog appears.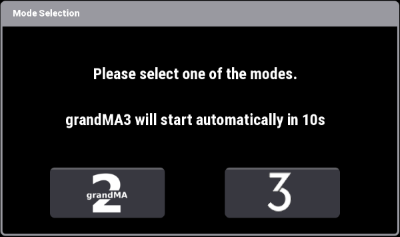 Tap the button grandMA2.
Screens 1, 2, 3 are initializing.
The letterbox screens and the commands screens stay black.
It can take several seconds for them to start initializing.
Mode2 is installed on the grandMA3 console.