grandMA2 User Manual

New in the Manual
Introduction

About this manual
System requirements grandMA2 onPC
Installation of grandMA2 onPC
Help from MA technical support

Safety Information

Symbols used
Intended use
Dangers caused by electric current
General safety instructions

Device Overview

grandMA2 console
grandMA2 replay unit (RPU)
grandMA2 fader wing
MA onPC command wing
MA onPC fader wing

System Overview

Standalone systems
Network systems

What is the replay unit (RPU)
What is the network processing unit (NPU)
What is the MA video processing unit (VPU)
What is the network dimmer processor (NDP)
What is MA 3D
What are the MA nodes

Parameters vs. DMX channels
Parameter expansion
Big systems
Media systems and CITP

First Steps

Unpack the device
Check scope of delivery
Position the device
Connect power
Connect desk lamps
Connect external screens
Connect USB mouse and USB keyboad
Connect DMX
Connect sound
Connect SMPTE (LTC)
Connect Ethernet
Connect analog remote control
Connect grandMA2 fader wing
Setup your PC
Turn on the console the first time

Keys & Buttons on the Console

Key overview
>>> [GoFastForward]
<<< [GoFastBack]
. [Dot]
Align
Assign
At
Backg [Background]
Backup
Blind
Bt Pg +
Bt Pg -
B.O. [Blackout]
Channel
Ch Pg +
Ch Pg -
Clear
Copy
Cue
Del [Delete]
Down
Edit
Effect
[Encoder]
Esc
Exec [Executor]
Executor Buttons
Fd Pg +
Fd Pg -
Fix
Fixture
Freeze
Full
Go + [small]
Go + [large]
Go - [small]
Go - [large]
Goto
Group
Help
Highlt [Highlight]
If
Keyboard
Learn
List
MA
Macro
[Minus] -
Mouse
Move
Next
[Numeric]
Off
On
Oops
Page
Pause [small]
Pause [large]
Please
[Plus] +
Preset
Prev [Previous]
Prvw [Preview]
Select
Sequ [Sequence]
Set
Setup
Solo
Store
Temp
Thru
Time
Top
Tools
Up
Update
User 1
User 2
View
U1 - U4
V1 - V10
X1 - X20

Workspace

User interface

Screen layout
User-defined area
Command line
X-Key labels
View buttons
Master section
Time control

Encoder bar

Preset control bar
Encoder toolbar

Encoder settings
Command wing bar
Command section
Mini executor bar
Work with views
Touch gestures
Calculator
Info
Oops and undo
Colors
Text indicators and symbols
Icons
Keyboard shortcuts

Turn on or turn off the keyboard shortcuts
Edit keyboard shortcuts
Add or delete keyboard shortcuts
Export or import keyboard shortcuts

Windows in General

Create and manage basic windows
Clear the screen or delete windows

Command Syntax and Keywords

General syntax rules

Helping keywords
Object keywords
Function keywords

All keywords

Special characters
<<< [GoFastBack]
>>> [GoFastForward]
- [Minus]
+ [Plus]
AddUserVar
AddVar
Agenda
Alert
Align
AlignFaderModules
All
AllButtonExecutors
AllChaseExecutors
AllFaderExecutors
AllRows
AllSequExecutors
And
Appearance
Asterisk *
Assign
At
At @
Attribute
AutoCreate
Backup
Black
Blackout
BlackScreen
Blind
BlindEdit
Block
ButtonPage
Call
Camera
ChangeDest
Channel
ChannelFader
ChannelLink
ChannelPage
Chat
CircularCopy
Clear
ClearActive
ClearAll
ClearSelection
Clone
CmdDelay
CmdHelp
Copy
CrashLogCopy
CrashLogDelete
CrashLogList
Crossfade
CrossfadeA
CrossfadeB
Cue
Cut
Default
DefGoBack
DefGoForward
DefGoPause
Delay
Delete
DeleteShow
DisconnectStation
Dmx
Dollar $
DmxUniverse
Dot .
DoubleRate
DoubleSpeed
Down
DropControl
Edit
Effect
EffectAttack
EffectBPM
EffectDecay
EffectDelay
EffectFade
EffectForm
EffectHigh
EffectHZ
EffectID
EffectLow
EffectPhase
EffectSec
EffectSpeedGroup
EffectWidth
Empty
EndIf
EndSession
Escape
ExecButton1
ExecButton2
ExecButton3
Executor
Exit
Export
Extract
Fade
FadePath
Fader
FaderPage
Feature
Filter
Fix
Fixture
FixtureType
Flash
FlashGo
FlashOn
Flip
Form
Freeze
Full
FullHighlight
Gel
Go
GoBack
Goto
Group
HalfRate
HalfSpeed
Help
Highlight
IdentifyFaderModule
If
IfActive
IfOutput
IfProg
Image
Import
Info
Insert
Interleave
Invert
InviteStation
Item3D
JoinSession
Kill
Label
Layer
Layout
Learn
LeaveSession
List
ListEffectLibrary
ListFaderModules
ListLibrary
ListMacroLibrary
ListOops
ListOwner
ListPluginLibrary
ListShows
ListUpdate
ListUserVar
ListVar
Load
LoadNext
LoadPrev
LoadShow
Locate
Lock
Login
Logout
Lua
Macro
ManualXFade
Mask
Master
MasterFade
MAtricks
MAtricksBlocks
MAtricksFilter
MAtricksGroups
MAtricksInterleave
MAtricksReset
MAtricksWings
MediaServer
Menu
Message
Messages
MidiControl
MidiNote
MidiProgram
Model
Move
Move3D
NetworkInfo
NetworkNodeInfo
NetworkNodeUpdate
NetworkSpeedTest
NewShow
Next
NextRow
Normal
Off
On
Oops
Or
OutDelay
OutFade
Page
Parentheses ( )
Park
Part
Paste
Pause
Plugin
PMArea
Preset
PresetType
Preview
PreviewEdit
PreviewExecutor
Previous
PrevRow
Profile
Protocol
PSR
PSRList
PSRPrepare
Quotation marks " "
Rate
Rate1
RdmAutomatch
RdmAutopatch
RdmFixtureType
RdmInfo
RdmList
RdmSetParameter
RdmSetpatch
RdmUnmatch
Reboot
Record
Release
ReloadPlugins
Remote
RemoteCommand
Remove
RemoveIndividuals
Replace
ResetDmxSelection
ResetGuid
Restart
Root
Rotate3D
SaveShow
Screen
Search
SearchResult
Select
SelectDrive
Selection
SelFix
Semicolon ;
Sequence
SetHostname
SetIP
SetNetworkSpeed
Setup
SetUserVar
SetVar
ShuffleSelection
ShuffleValues
Shutdown
SnapPercent
Slash /
Solo
SpecialMaster
Square brackets [ ]
Speed
StepFade
StepInFade
StepOutFade
Stomp
Store
StoreLook
Surface
Swop
SwopGo
SwopOn
SyncEffects
TakeControl
Telnet
Temp
TempFader
Thru
Timecode
TimecodeSlot
Timer
ToFull
Toggle
Tools
Top
ToZero
Unblock
Unlock
Unpark
Up
Update
UpdateFirmware
UpdateSoftware
UpdateThumbnails
User
UserProfile
Value
Version
View
ViewButton
ViewPage
WebRemoteProgOnly
With
World
Zero

Work with lists

Object list
Selection list
Executor list
Attribute list
Station list

Using the Backup Menu

New show
Load show
Save show
Save show as...
Delete shows
Using a USB stick
Setting up a file server
Partial show read
ASCII show read
grandMA2 to grandMA3 show file converter

Single User and Multi User Systems

The difference between a single user and a multi user system
Create user profiles and users
User settings
Login

Networking

What is networking
Set the IP address in the console
Set the IP address in the onPC
Using DHCP in MA devices
Session control

How to create a session
Protecting the session and station
Adding devices to the session
How to end or leave a session
Session collision

Getting DMX in and out of the system

Setting up DMX ports on MA devices
Network DMX protocols
What affects my DMX output?

Using CITP

Streaming CITP
Thumbnail exchange

PosiStageNet (PSN)
FTP connection to console and NPU

Patching, DMX, and Fixture Setup

What are channels & fixtures
What is 3D and stage setup
Adding fixtures to the show
Delete fixtures from the show
Working with layers
Multipatching
Live patching
DMX sheet
DMX testing
DMX and parameter lists
Universe pool
Stage view
Virtual 3D cameras
Position fixtures in the 3D stage
Auto calibrate fixture positions

Basic Fixture Types

What are attributes, features & preset types
ColorMix vs. MixColor
Different fixture types

Conventional
LED
Mirror
Moving lights
Media server
Virtual fixtures

Operate Fixtures

Channel sheet
Fixture sheet
Sheet options

Tools
Layer mask
Display
Title buttons
Assign executor
Mask (local)

Layers in sheets

Channel sheet and fixture sheet
Sequence content and sequence tracking sheet

What is the programmer
Encoder grouping
Using the color picker
Using the shaper dialog
Using the smart view
Edit a channel or fixture

Pools in General

Manage pool objects
Adjust pool options
Call modes

Groups

Create groups
Auto create groups
Using groups when programming
Choose copy method
Change specific group colors
Group masters

Presets

What are special modes
Preset pools
Preset pool "Dynamic"
Create presets
Preset pool options
Create preset reference
Auto create presets
Auto create additional presets
Embedded presets
Edit presets
Update presets
Delete presets

Cues and Sequences

What are cues and sequences
Looking at the cue sequence
Store cues
Store options and defaults
Cue timings
Renumber cues
Delete cues
Playing back cues
Looking at the cue content
Update cues
What is tracking
What is MIB
Sequence mini executor
Commands in cues

Executors

What are executors
Executors on the screens
Assign a function
Looking at the active executors
Common executor options

Advanced Sequence Functionality

Using different view sets in the sheets
Working with MIB
Using cue modes
Cue zero
Sequence info window
Looping cues
Cue path

Advanced Executor Functionality

Executor pages
Channel pages
Executor options
Masters window
Special masters

Default masters
Grand masters
Speed masters
Rate masters
Playback masters

Clone

Clone in user interface
Examples
Clone presets

Search and Replace
Image Pool

Import images and videos
Image limitations & guidelines for symbols
Supported file formats
Delete images and videos

Layouts

Create a layout
Layout pool options
Edit layout
Layout view options

Worlds, Filters and Masks

What are worlds
Create worlds
Auto create worlds
Use worlds when programming
What are filters
Create filters
Use filters when programming
Use temporary filters
What are masks
Create masks
Use masks in the sheets
Apply worlds or filters to executors and sequences

MAtricks

MAtricks toolbar
MAtricks pool
MAtricks interleave
MAtricks blocks
MAtricks wings
MAtricks groups

Chasers

Create a chaser
Chaser settings
Chaser mini executor

Effects

Use predefined effects
Use template and selective effects
Create an effect in the programmer
Create an effect that uses presets
Create effect forms
Pool options
Effects in a cue
Assign effect to executor
Live edit an effect
Running effects
Update effects
Delete effects

Bitmap Fixture

Import bitmap fixture
Apply bitmap fixture in the layout
Control bitmap fixture
Edit bitmap fixture
Example
Priorities for bitmap effects
Disable bitmap for fixtures

XYZ

XYZ vs. pan/tilt
XYZ and pan/tilt in cues and sequences
Use stage markers
Link objects to stage markers in MA 3D

Remote Controlling the System

Remote input
MIDI show control (MSC)
Web remote
Telnet remote
Decimal – hex table

Timecode

What is timecode and timecode shows
Record a timecode show
Edit a timecode show
Playing back a timecode show
Organize the show with multiple timecode shows

Timer

Timer pool
Timer pool options

Agenda

What is agenda
Create an appointment in the agenda

Macros

What are macros
Manually create a macro

Use variables
Create pop-ups
Conditional expressions
Macro timing

Record a macro
Edit a macro
Command line interaction
Assign a macro to a key
Example macros

Plugins
Partial Show Read

What is partial show read (PSR)
How to do a PSR

RDM

Turn RDM on
Match RDM devices
Auto patch RDM devices
Work with RDM parameters
Work with RDM sensors
Configure RDM notifications
Use the RDM sheet
Unmatch RDM devices
Splitters and mergers that support RDM
Turn RDM off
RDM specific keywords

DMX Profiles
Other System Tools

Message center
Help
Clock
Sound input window
VPU pixel mapper view
Network dimmer

Views
Errors
Readout
Edit properties of a rack
Edit a module

Desk status
Performance window
System monitor

Export and Import

Export by using command line
Export by using user interface
Import by using command line
Import by using user interface
Import predefined objects

Update the Software

Update via setup
Format a USB stick for Linux
Update or factory reset via boot menu
Restart from Linux

Advanced Fixture Types

Anatomy of a fixture type

Module manager
Instance manager
Wheel manager

Attribute & Encoder Grouping

grandMA2 onPC Details
Control the MA NDPs

Add the MA NDPs
Configure the MA NDPs
Delete the MA NDPs

Control the MA Network Switch

Add MA Network Switch
Change IP address
Enable DHCP client
Change hostname
Change switch ID
Configure ports
Edit groups
Edit presets
Edit LAGs
Mirror ports
Work with the switch configuration
Disable SNMP
Change password
Update firmware
Reset to factory defaults
Delete MA Network Switch

Control the MA xPort Nodes

Add the MA xPort Nodes
Configure the MA xPort Nodes in the console
Configure the MA xPort Nodes in a browser
Configure the MA xPort Nodes as splitters or mergers
Delete the MA xPort Nodes

Console Settings

Adjust the intensity of desk lights
Change screen options
Local settings
Wing & monitor setup
Date & Time

Shut Down the System
Error Messages
Technical Data
Glossary

grandMA3 Mode2
grandMA2 Quick Start Guide
grandMA2 Quick Manual onPC solutions
MA 3D
MA VPU
Release Notes
Create an appointment in the agenda
Table of contents of this topic
To create an appointment in the agenda, tap on a date in the Agenda window. To get to the Agenda window, see the What is agenda topic.
The Agenda window will now change, and it could look like this: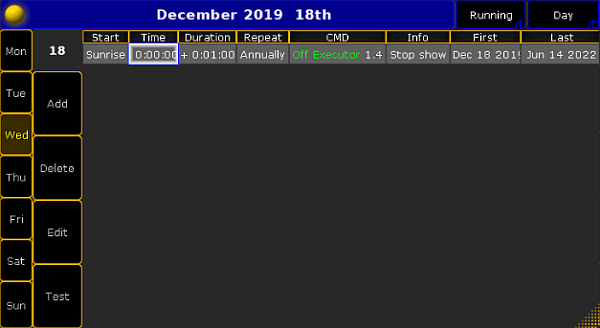 In the left side of the window, 4 new buttons become visible:
Add - will add a new appointment to the schedule
Delete - will delete the highlighted appointment
Edit - will edit the highlighted appointment
​Test - will test the CMD in the highlighted appointment
When adding a new appointment, it is possible to fill in 8 fields. Tap on the fields to edit them.
Start
The field Start handles what time the appointment should start. This could be at an exact time (Absolute) or it could be set to Dawn, Sunrise, Sunset or Dusk according to the time and place the console is set to.
For more information about time and place, see the Date & time topic.
Time
If the Start field is set to Absolute, then it is possible to enter a specific time for the appointment by using the Calculator in the Time field.
Duration
The Duration field will manage how long time the appointment is active. For most commands, this is not relevant. It has to be at least 1 second.
Hint:
It is not possible to make a duration on a flash button. It will take a Flash Off command to turn it off.
Repeat
This field will manage how often the appointment will be repeated. Tap on the field and a pop-up will appear with different options: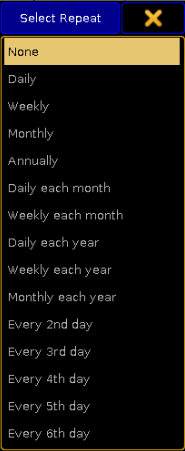 Select the interval you need.
CMD
This is the command that will be executed for this appointment.
For more information about commands and keywords, see the Command Syntax and Keywords topic.
Info
This field is free to use for information about the appointment. It has no relevance for the appointment, but can be used to remember what it will execute.
First
This is the first day the appointment will be executed.
Last
This is the last day the appointment will be executed.
Encoderbar
​When starting an appointment, the encoderbar will change.

Here it is possible to navigate in the calendar by using the encoders.
Yellow Ball
Tap the yellow ball in the upper left corner to get a list of all scheduled appointments.