MA Network Switch

Introduction

Intended Use
Dangers caused by Electric Current
General Safety Instructions
System Requirements
SFP Transceiver Compatibility

Device Overview

Front Panel
Rear Panel
LED Indicators
Factory Defaults

First Steps

Unpack the Device
Install Mini-GBIC (SFP)
Installation in a Rack
Connect the Hardware
Set the IP Address on the PC
Access the Web Interface

Display Navigation

Groups View
Name View
Workload View
LAG View
Reset View

Ports / Groups

Change Port Description
Assign Groups to Ports
Edit LAGs
Edit RSTP
Edit Speed Setting
Change Group Name
Edit IGMP Snooping
Edit IGMP Querier
Edit Unknown Flooding
Change VLAN ID

Presets / Filters

Assign Presets to Ports
Apply Filters to Ports
Create New Presets
Update Presets
Create New Filter
View Filters
Delete Presets
Delete Filter

General Settings

Change Name
Change ID
Change DHCP Client
Change IP Address
Change Subnet Mask
Change Default Gateway
Change SNMP Status
Change Password
Update Firmware
Fallback to Backup Firmware
Get Switch Configuration
Edit Port Mirroring
Upload Switch Configuration
Reset Settings
Web Interface and grandMA2

Specifications
Support
Glossary
Assign Groups to Ports
You can assign one group for each port. Two devices must be part of the same group to communicate.
Groups are a logical segment of network users (= VLAN). With groups it is possible to send different signals in different groups via the same network cable without affect the other signal. For example sound and light signals.
The groups for port 1 through 13 can be manually configured at the Edit Ports / Groups Window.
By default, all groups are managed groups.
The assigned group has a green dot.
The switch has eight different groups.
Group01 (Red)
Group02 (Yellow)
Group03 (Green)
Group04 (Cyan)
Group05 (Blue)
Group06 (Magenta)
Trunk (White)
Manage (Gray)
Important:
If more than one switch is in a network and more than one group is in use, use a Trunk to forward all group packets to other switches. The Trunk comprises all groups that are available (1 to 6 and 8).
Important:
You need at least one manage group in the network.
If no manage port is in the network, you can not configure the switch anymore. A
factory reset
is necessary.
Hint:
Use port 13 on the front panel as management port to connect the PC for switch configuration via the web interface.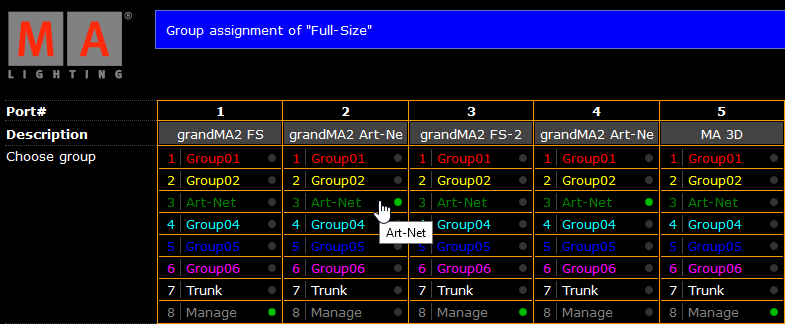 Requirement: Connection to the Web Interface.
Click Edit Ports / Groups.
Click on the Group you want to assign to the port.
The green dot is visible next to the group.
Click Apply settings and stay where you are or Apply settings and leave edit.
The selected group is assigned to the port and saved in the startup configuration.
The group LED at the front panel indicates the assigned group in the group color.