grandMA2 User Manual
grandMA3 Mode2
grandMA2 Quick Start Guide
grandMA2 Quick Manual onPC solutions
MA 3D
MA VPU

Introduction

Help from MA technical support
System requirements

For your Safety
Functions and Features

Transition from grandMA video to MA VPU
Teaser Mode
Comparison VPU plus / VPU basic / VPU light

Main Features

Installation and Maintenance

Startup
Software update
Update of Fixture Types
Backup

Handling backups with the VPU
Start Acronis on VPUs with serial Numbers up to # 86 on
Start Acronis on VPUs with serial Numbers from # 87
Restoring an image with Acronis
Storing an image with Acronis
Backup the VPU content after shipment

Access VPU via Network
Version of grandMA desk or grandMA onPC (off-line)
IP Addresses

IP Address of the PC
Art-Net IP Address

EDID Manager
CITP / MSEX Protocol

Communication with the grandMA Desk Series

Connection with the grandMA desk
Connection with the grandMA onPC (off-line) software
Connection States

Data Management

Master slave
Principle function diagram
Layer Properties
Layer Reference
Virtual Outputs

Virtual Output: Configuration of a TripleHead2Go Digital Port

Predefined Constellation

Several MA VPU applications in one grandMA show
Quickstart with grandMA2
Program surface

Internal Touch-Screen VPU plus
Internal Screen VPU light
Menu Bar

File...
View...
Render...
Help...

Toolbar
Status Bar
Preview
Multi Preview
Content Editor

Content: Image Pool (I-Pool)
Content: Text Ticker
Content: Eff1 Type...Eff4 Type
Content: 3D Objects
Content: Mask

Warper

Warper Fullscreen View
Warper Basic Operation
Warping

File Browser

Features Attributes and Functions
Order of Effect Execution
Softedging
Keystoning
Pixel Mapper

VPU - Pixel Mapper Graphical View

Pixel Mapper Toolbar
Pixel Mapper Editor

VPU - Pixel Mapper Grid View
Console - VPU Pixel Mapper View

Creation of customized 3D Objects
Content Specifications

Rovi Total CodeStudio for converting your content into MPEG2
Hap Content Converter

Warnings
Keyboard Shortcuts
FAQ and Troubleshooting
Supplement MA Lighting

Intended use
Data
Symbols and warning labels
LIMITATIONS
Transport
General Safety Instructions
IMPORTANT SAFETY INSTRUCTIONS
Electric shock warning on the rear of the grandMA
Safety and Environment
Quickstart Connect VPU plus
Quickstart Connect VPU light
Switching the apparatus On/Off
Maintenance
Conformity

Release Notes
VPU - Pixel Mapper Grid View
Via the tab 'Grid View' you can switch to the Grid View of the Pixel Mapper: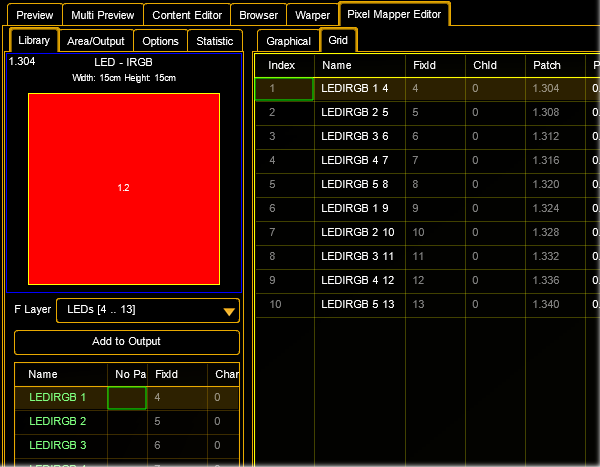 This view offers an overview about all used fixtures of the selected output.
Most values can be edited directly in the grid. Vales which can not be edited are displayed in light grey.
Selected fixtures are displayed with an orange background. Patch collisions are indicated and marked red.
You can use common functions like:
Multiselection: select first row while pressing <Shift> and select last row (still hold <Shift>)--> all rows inbetween are selected.
Select or deselect several rows by pressing Ctrl. Press F2 for editing a value and all selected values will take over the new value.
Selecting multiple values can also be done by using the rubberband, means to lasso a certain area.
The edit control (to type in the value) can be opened by a left mouse click on a selected value.
Holding <Ctrl> while lassoing (selecting) values allows toggling the selection.
The selection of several rows (multiselection) is marked by green frames.
All green highlighted values values of the same column will take over the new value.
Export- Import to Excel: You can Export or Import the panels to an Excel (.csv) file via the context menu
Copy & Paste from an Excel Sheet:
Note: you can only do this on a Media PC or on a external PC running the VPU Software. Only the Name of the fixture, PosX, PosY and Rot can be manipulated.
If you want to use the functionality in combination with a VPU, this external PC has to be in a session with the VPU or the same showfile that you just edited.
It has to be uploaded to the VPU afterwards. Create an Excel sheet or Tab separated .txt file that fits the options in the VPU change all cells to the desired values:

Copy these settings to the clipboard by pressing CTRL + C (only values shall be selected, not the headline, numerical values comma or Tab separated, so e.g. only values like "2,3" are valid.
Open the VPU software; go to the grid view in the pixel mapper mode.
Select the row, where you want to insert new values:

Right click into the grid view and select "Paste". The result looks like this:

You can change Name, PosX, PosY und Rot of the panel. If you select e.g. only PosX in the Excel Sheet (and copy that into the clipboard), then set the marker in the cell from where you want to change the values and you paste this information into the VPU software, only these values will be overwritten. So selected copy paste is possible as well.
Hint:
If no real keyboard is connected you can use the on screen keyboard to enter values into the grid.
Therefore do a right mouse click into the grid.