grandMA2 User Manual
grandMA3 Mode2
grandMA2 Quick Start Guide
grandMA2 Quick Manual onPC solutions
MA 3D

Help from MA technical support
Symbols used
Introduction
Install and Uninstall

System Requirements
Installation
Uninstall MA 3D

First Steps

Hardware connection
Start MA 3D
Create a Session

Data Management

Master/Slave
Coordinate system

Program Surface

Menu Bar

Menu Bar - File Menu
Settings
Edit
Functions
Tools
View
Help

Tool Bar
Main Windows

Stage View
Mouse + Keyboard Actions
Arrangement of Objects (Align Objects)
Duplicate (copy 3D Objects)
3D Objects

Assets (Information Window)
Properties
Media Database
Materials
Video Player
Moving Paths
Sessions
Status Bar
Windows Layout

Fixture Types
3D Modeling and Import

Workflow
3D Modeling Principles
Creation of a 3D Model
Creation of a 3D Fixture Model
Import 3D Model to MA 3D
Assigning of 3D Models to Fixture Types
Checklist for 3D Modeling
Automated import
Parameters

Axes
Rotation Axes
Linear Axes
Beam of Light (Cone)

Keyboard Shortcuts
MA 3D FAQ

MA VPU
Release Notes
Hardware connection
This topic describes how to connect a computer and a grandMA2 console. If you want to create a session between the MA 3D and the grandMA2 console, you need a hardware connection.
Requirement: Network cable or switch.
Connect the console and the computer with a network cable or switch, refer to Console Backpanel.
grandMA2 Console: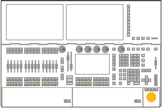 Network Cable or Switch:


Computer:


The grandMA2 console and the computer are connected.