grandMA2 User Manual
grandMA3 Mode2
grandMA2 Quick Start Guide
grandMA2 Quick Manual onPC solutions
MA 3D
MA VPU

Introduction

Help from MA technical support
System requirements

For your Safety
Functions and Features

Transition from grandMA video to MA VPU
Teaser Mode
Comparison VPU plus / VPU basic / VPU light

Main Features

Installation and Maintenance

Startup
Software update
Update of Fixture Types
Backup

Handling backups with the VPU
Start Acronis on VPUs with serial Numbers up to # 86 on
Start Acronis on VPUs with serial Numbers from # 87
Restoring an image with Acronis
Storing an image with Acronis
Backup the VPU content after shipment

Access VPU via Network
Version of grandMA desk or grandMA onPC (off-line)
IP Addresses

IP Address of the PC
Art-Net IP Address

EDID Manager
CITP / MSEX Protocol

Communication with the grandMA Desk Series

Connection with the grandMA desk
Connection with the grandMA onPC (off-line) software
Connection States

Data Management

Master slave
Principle function diagram
Layer Properties
Layer Reference
Virtual Outputs

Virtual Output: Configuration of a TripleHead2Go Digital Port

Predefined Constellation

Several MA VPU applications in one grandMA show
Quickstart with grandMA2
Program surface

Internal Touch-Screen VPU plus
Internal Screen VPU light
Menu Bar

File...
View...
Render...
Help...

Toolbar
Status Bar
Preview
Multi Preview
Content Editor

Content: Image Pool (I-Pool)
Content: Text Ticker
Content: Eff1 Type...Eff4 Type
Content: 3D Objects
Content: Mask

Warper

Warper Fullscreen View
Warper Basic Operation
Warping

File Browser

Features Attributes and Functions
Order of Effect Execution
Softedging
Keystoning
Pixel Mapper

VPU - Pixel Mapper Graphical View

Pixel Mapper Toolbar
Pixel Mapper Editor

VPU - Pixel Mapper Grid View
Console - VPU Pixel Mapper View

Creation of customized 3D Objects
Content Specifications

Rovi Total CodeStudio for converting your content into MPEG2
Hap Content Converter

Warnings
Keyboard Shortcuts
FAQ and Troubleshooting
Supplement MA Lighting

Intended use
Data
Symbols and warning labels
LIMITATIONS
Transport
General Safety Instructions
IMPORTANT SAFETY INSTRUCTIONS
Electric shock warning on the rear of the grandMA
Safety and Environment
Quickstart Connect VPU plus
Quickstart Connect VPU light
Switching the apparatus On/Off
Maintenance
Conformity

Release Notes
Console - VPU Pixel Mapper View
The VPU Pixel Mapper can be configured in the grandMA2 desk too.
A visual representation of the Pixel Mapper editor of the VPU is implemented in the grandMA2 console:
Create a new window in Other / VPU Pixel Mapper View. This window looks very similar to the window in the VPU.
Only the library tab is missing. To work with this window, you can do the following:
Areas and Outputs can be created, deleted, and edited as known from the VPU.
To store fixtures and channels into an existing Pixel Mapper Output, select them, press Store and click into the area of your chosen output.
If fixtures or channels have been selected, you can also use
[Channel]> store PM 1.2 /axis=+X+Z

to store into Area 1, Output 2 with the Axis +X +Z.
All parameters of each Pixel Mapper Area / Output can be controlled by the command line, too.
Use "cd PM" to get to the Pixel Mapper containers in the root.
Pixel Mapper setups can also be copied or deleted. They can also be merged via command-line. E.g.
[Channel]> copy PM 1.1 at 1.2 /merge
The following example shows 10 LED Tiles arranged on a 1 x 1 meter square: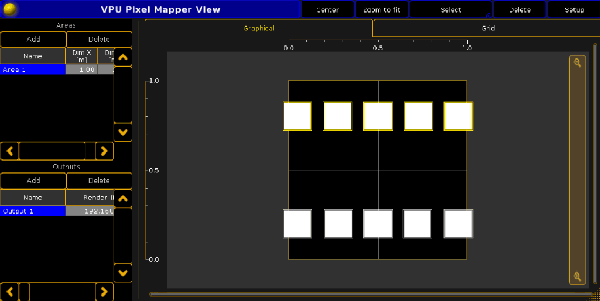 After the Fixtures have been inserted into the Pixel Mapper, they can be selected by a rubber-band, moved and rotated, just as in the VPU Pixel Mapper editor.
Use the top-line buttons select / move to change mouse behavior.
To allow editing, activate the Setup button in the headline of the window.
Also the encoder bar can be used to change these values.
The Grid View shows the numerical representation of the mapped fixtures: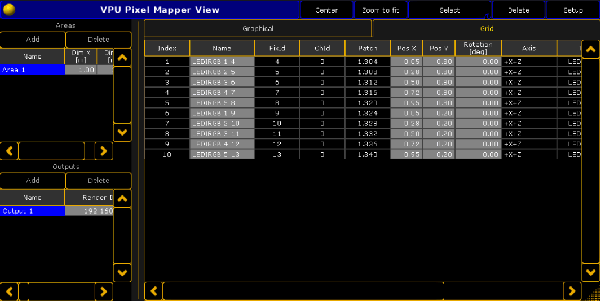 The grid mode shows all the options of each panel (the abstraction of fixtures and channels in the Pixel Mapper Editor) in a tabular view.
Values can also be edited here, too. To send the data via MA-Net2, select the protocol in the options of the Output and enable the Pixel Mapper Main Render flag.
A maximum of 256 universes can be send, and all 3 protocols share the same amount.
Hint:
So e.g. you can send 200 universes of MA-Net2, 20 Universes Art-Net and 36 Universes sACN.
MA-Net2 is put out on Ethernet1, sACN and Art-Net are put out on Ethernet 2(on a VPU).
To send the Pixel Mapper data back into the console, no additional Ethernet cable is required.