grandMA2 User Manual
grandMA3 Mode2
grandMA2 Quick Start Guide
grandMA2 Quick Manual onPC solutions
MA 3D

Help from MA technical support
Symbols used
Introduction
Install and Uninstall

System Requirements
Installation
Uninstall MA 3D

First Steps

Hardware connection
Start MA 3D
Create a Session

Data Management

Master/Slave
Coordinate system

Program Surface

Menu Bar

Menu Bar - File Menu
Settings
Edit
Functions
Tools
View
Help

Tool Bar
Main Windows

Stage View
Mouse + Keyboard Actions
Arrangement of Objects (Align Objects)
Duplicate (copy 3D Objects)
3D Objects

Assets (Information Window)
Properties
Media Database
Materials
Video Player
Moving Paths
Sessions
Status Bar
Windows Layout

Fixture Types
3D Modeling and Import

Workflow
3D Modeling Principles
Creation of a 3D Model
Creation of a 3D Fixture Model
Import 3D Model to MA 3D
Assigning of 3D Models to Fixture Types
Checklist for 3D Modeling
Automated import
Parameters

Axes
Rotation Axes
Linear Axes
Beam of Light (Cone)

Keyboard Shortcuts
MA 3D FAQ

MA VPU
Release Notes
Media Database
To open the media database, click on View in the menu bar and then Media Database. Import 3D objects from the media database into the stage view.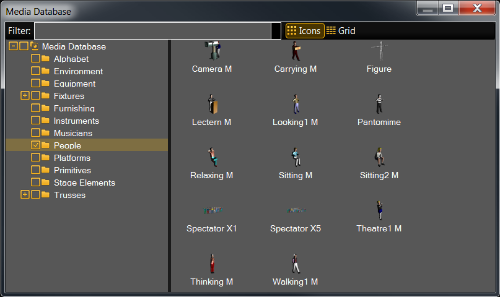 The media database provides 3D objects for the stage. There are 12 different folders available.
On the top is a filter field. Type the search word in the filter to search a specific object in the media database.
There are two views available. The icon view and the grid view.
The icon view displays an icon of the 3D object along with the name.
To import a 3D object from icons view into the stage view, select the object and move it via drag and drop into the stage view or double click on the icon.
The grid view displays additional in columns the
category
device class
author of the 3D object
model key
size of the object in metric (length, width, height)
vertices
size of the 3D object in bytes
To import a 3D object from the grid view into the stage view, double click on the object row.