grandMA2 User Manual
grandMA3 Mode2
grandMA2 Quick Start Guide
grandMA2 Quick Manual onPC solutions
MA 3D

Help from MA technical support
Symbols used
Introduction
Install and Uninstall

System Requirements
Installation
Uninstall MA 3D

First Steps

Hardware connection
Start MA 3D
Create a Session

Data Management

Master/Slave
Coordinate system

Program Surface

Menu Bar

Menu Bar - File Menu
Settings
Edit
Functions
Tools
View
Help

Tool Bar
Main Windows

Stage View
Mouse + Keyboard Actions
Arrangement of Objects (Align Objects)
Duplicate (copy 3D Objects)
3D Objects

Assets (Information Window)
Properties
Media Database
Materials
Video Player
Moving Paths
Sessions
Status Bar
Windows Layout

Fixture Types
3D Modeling and Import

Workflow
3D Modeling Principles
Creation of a 3D Model
Creation of a 3D Fixture Model
Import 3D Model to MA 3D
Assigning of 3D Models to Fixture Types
Checklist for 3D Modeling
Automated import
Parameters

Axes
Rotation Axes
Linear Axes
Beam of Light (Cone)

Keyboard Shortcuts
MA 3D FAQ

MA VPU
Release Notes
Import 3D Model to MA3D
Table of contents of this topic
Import 3D Models into MA 3D
Open MA 3D


In the Media Database (View - Media Database Window) you can find all 3D objects ordered in a hierarchical structure. Types of fixtures are located in the corresponding folder. All fixtures of the type Head Mover are located in the folder "Head Mover".
Open the Import Tool
Open the import tool the menu entry 'File – Import – Import 3D Model'.
Select 'Import 3D Model'.
Select the 3D file 'Vari-Lite_VL1000.3ds' you have created.

Entering 3D Model Properties
When import is done an .xml description file is generated and stored in the folder parallel to the .3ds file. For example 'Vari-Lite_VL1000.import.xml'.
This file is only created once during the first initation of the import. The unique model key will be only generated in this step.
If the file already exists, the importer uses the data from this file to fill out the following fields: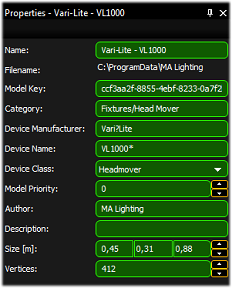 Fill out the property fields of the model.
Mandatory fields are:
Category - places the model within the hierarchic structure of models
Device Manufacturer and Name - finds the correct model in case of variant spelling
Device Class - assigns the right parameters
Model Priority - prioritization in the selection of a model. Higher numbers are more likely to be prioritized see also Assigning of 3D models to fixture types
Preview Image
Generate a significant preview image of the fixture position in the preview window.
Save the image as… (Browse to the folder of the .3ds file) parallel to your model. Use the model's name e.g., 'Vari-Lite-VL1000.png.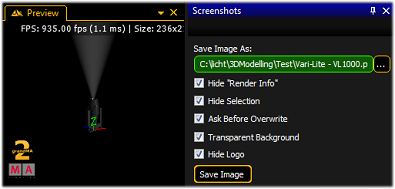 Save the 3D Model
To save the 3D model as grandMA Media file, use the save function 'File' - 'Save' e.g., 'test.gmamedia'.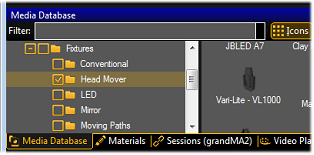 The fixture is now saved in the media database in the category Fixtures/Head Mover. The image is displayed as a thumbnail.