MA Fixture Builder

Introduction
First Steps

System requirements
Installation on your computer
Start the program
Program surface

Fixture Type Information
Attributes

Mix color attribute table
Add DMX channels
Delete DMX channels

Channel Function Ranges

Add channel function ranges
Delete channel function ranges
Wizard

Function Sets

Add a function set
Delete a function set

Export and Import

Export fixture
Import fixture

Release Notes

MA Fixture Share
MA Vectorworks Spotlight Plugin
Wizard
The table Channel Function Ranges offers a Color Wheel or a Gobo Wheel Wizard, depending on attribute – color or gobo.
Requirement:
Add a gobo or a color wheel in the column Attributes.
To enable the corresponding wizard, click the attribute first.
The following is described on the basis of the on the Color Wheel Wizard.
Open the wizard:
Click the Color Wheel Wizard after enabling.
The wizard opens.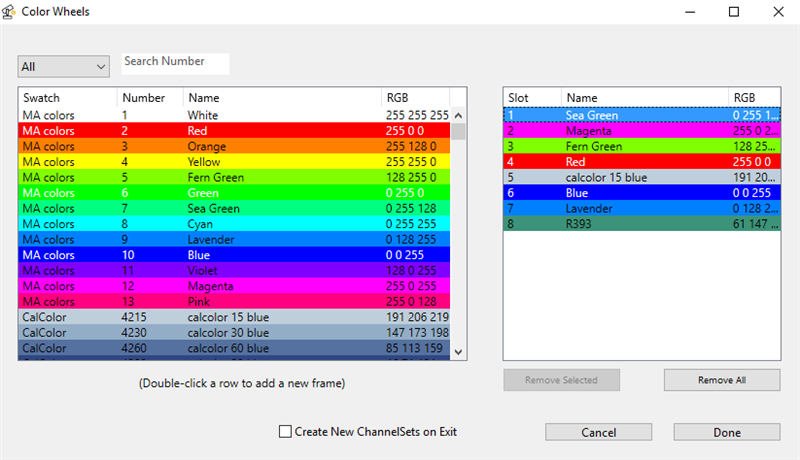 Select the manufacturer by clicking the drop-down list All.
Or display the array of colors by the number:
-Enter the number in the input field Search Number.
To add the colors to the column on the right, double-click a color.
To remove single colors in the table on the right, click a line to mark it.
Then, click Remove Selected.
The line is now removed.
If you would like to remove all lines on the right, click Remove All.
To create new channel sets on exiting the subattributes, check the checkbox Create New ChannelSets on Exit.
Important:
Checking Create New ChannelSets on Exit overwrites all existing function sets of the subattribute.
If the settings are adjusted, click Done.
The wizard closes and the settings are now applied.
To abort the operation, click Cancel.