MA Fixture Builder
MA Fixture Share
MA Vectorworks Spotlight Plugin

Introduction
Installation
Export and Customizing
Import
Release Notes
Installation
Hint:
The plugin consists of a single file "Export grandMA2 Setup (XML).vsm".
1. To install the MA Vectorworks Spotlight Plugin, copy the file into one of the plugin folders of Vectorworks:
​Global plugin folder (located in the installation directory of Vectorworks)
User plugin folder in the folders:

Windows:
C:\Users\<UserName>\AppData\Roaming\Nemetschek\Vectorworks\<Year>\Plug-ins

OS X:
/Users/<UserName>/Library/Application Support/Vectorworks/<Year>/Plug-Ins
Important:
Up to and including 2015, German versions of Vectorworks used RWeiterung instead of plugins.
2. Open Vectorworks.
3. To add the grandMA2 export menu entry to the menu structure, edit the Workspace:
- Click Tools.
- Click Workspaces.
-To edit the current workspace, click Edit Current Workspace.
-To edit a different workspace, click Workspaces.
-Click on the corresponding workspace and click Edit.
4. The Workspace Editor opens.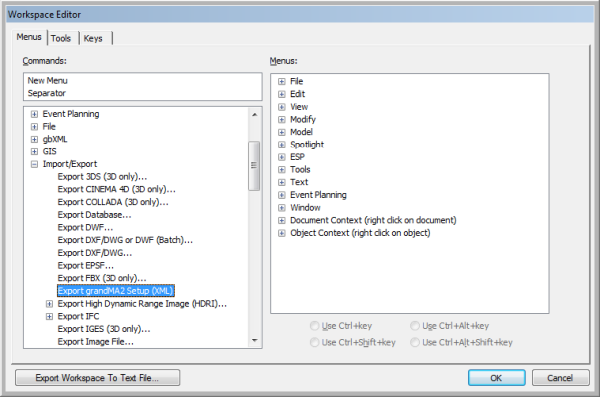 The grandMA2 Spotlight Plugin is displayed as an entry in the drop-down Import/Export of the left menu window.
Hint:
It is possible to display the grandMA2 Spotlight Plugin in any menu or submenu. Good options are:
-Export submenu
-File menu
-Spotlight menu
4. To assign a shortcut for the plugin, click one of the options below the menu window on the right.
The MA Vectorworks Spotlight Plugin is installed.