MA Fixture Builder
MA Fixture Share

What is MA Fixture Share
User Creation and Editing
Login
Navigate the Fixture Share

Title bar icons

Download files
Favorite files

Browse the fixture files
Find fixtures based on name
Find fixtures based on footprint
Fixture information

Upload Fixtures

MA Vectorworks Spotlight Plugin
Login
Table of contents of this topic
A login is needed to be able to access the MA Fixture Share.
If you do not have a registered user login, then please register - it is free.
There are two green input fields in the top right corner of the first page on http://fixtureshare.malighting.com.
Please write the username and password and then click the Login button.
Forgotten password
If you have forgotten the password the click the Forgot Password? link. This opens a new page that looks like this: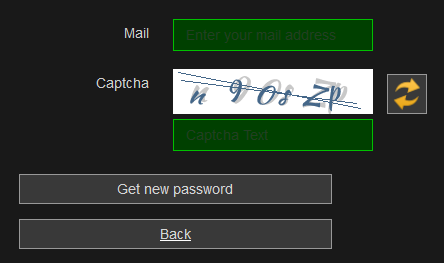 Type the email address and the CAPTCHA code followed by clicking the Get new password button.
Shortly after you get an email with a link. Click the link within 7 days.
It directs to a page where a new password can be typed in both input fields.
Finish by clicking the Set new password button.
A confirmation pop-up appears and now you can login with the new password.