MA Fixture Builder

Introduction
First Steps

System requirements
Installation on your computer
Start the program
Program surface

Fixture Type Information
Attributes

Mix color attribute table
Add DMX channels
Delete DMX channels

Channel Function Ranges

Add channel function ranges
Delete channel function ranges
Wizard

Function Sets

Add a function set
Delete a function set

Export and Import

Export fixture
Import fixture

Release Notes

MA Fixture Share
MA Vectorworks Spotlight Plugin
Attributes
The Attributes display the purpose of each DMX channel.
It is possible to:
DMX channels in the table Attributes.
To edit the attributes, double-click the cell below a column. The cell is selected and is displayed in blue. Type to edit using the keyboard of your PC.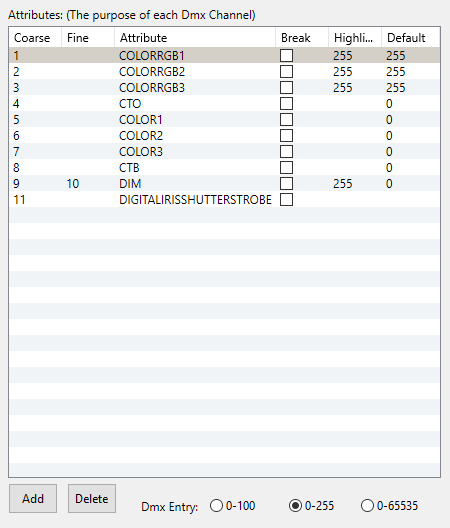 The table Attributes consists of six columns.
Coarse: Displays the coarse 8 bit DMX address.
Fine: Displays the fine 16 bit DMX address.
Attribute: Displays the fixture attribute.
Start Address:
All attributes share a start patch number after a start address. This allows the creation of fixtures using multiple DMX start addresses. DMX channel 1 is always a start address. If another DMX channel is set to a start address, it is displayed as two horizontal black lines.
Break: Displays the DMX start address of a fixture. There are up to four DMX start addresses in a fixture type.
Highlight: Displays the highlight value.
Default: Displays the default value.
DMX Entry
0-100: Displays values in percent.​
0-255: Displays values in decimal 8 bit.
0-65535: Displays values in decimal 16 bit.