MA Fixture Builder

Introduction
First Steps

System requirements
Installation on your computer
Start the program
Program surface

Fixture Type Information
Attributes

Mix color attribute table
Add DMX channels
Delete DMX channels

Channel Function Ranges

Add channel function ranges
Delete channel function ranges
Wizard

Function Sets

Add a function set
Delete a function set

Export and Import

Export fixture
Import fixture

Release Notes

MA Fixture Share
MA Vectorworks Spotlight Plugin
Add Channel Function Ranges
Requirement:
Select attribute in the table Attributes.
For more information see Attributes.
To add channel function ranges, click on Add below the table Channel Function Ranges.
The window Add Channel Function opens.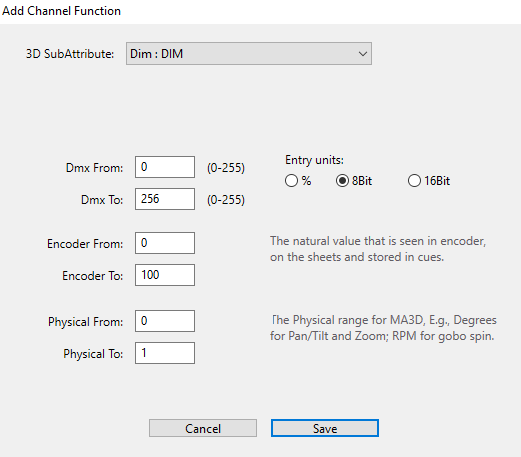 Select the 3D SubAttribute in the drop-down list.
Enter the DMX ranges in the columns Dmx From and Dmx To.
Select an entry unit on the right of the window.
Enter the encoder ranges in the input fields Encoder From and Encoder To.
Enter the physical range for the 3D in the input fields Physical From and Physical To.
To save and close the window, click Save.
To abort the operation, click Cancel.
The channel function range is now added.
Important:
Please make sure that the DMX channel ranges do not overlap.
For information on how to delete a function in the table see Delete channel function ranges.