dot2
dot2 Quick Start Guide
dot2 3D

Install and Uninstall

System Requirements
Installation
Uninstall dot2 3D

First Steps

Hardware Connection
Eine Session erstellen und mit dem 3D verbinden

Data Management

Master/Slave
Coordinate system

Program Surface

Menu Bar

File Menü
Edit
Functions
Tools
View
Help

Tool Bar
Main Windows

Stage View
Mouse + Keyboard Actions
Arrangement of Objects (Align Objects)
Duplicate (copy 3D Objects)
3D Objects

Assets (Information Window)
Properties
Media Database
Materials
Video Player
Moving Paths
Sessions
Status Bar
Window Layout

Fixture Types
3D Modeling and Import

3D Models Principles
Parameters

Axes
Rotation Axes
Linear Axes
Beam of Light
Automated Import
Assigning of Models to Fixture Types
Checklist for 3D Modeling
Creation of a 3D Model

Tastatur Kombinationen
dot2 3D FAQ

dot2 Release Notes
There's no German translation of this page yet, so the English version is shown.
Introduction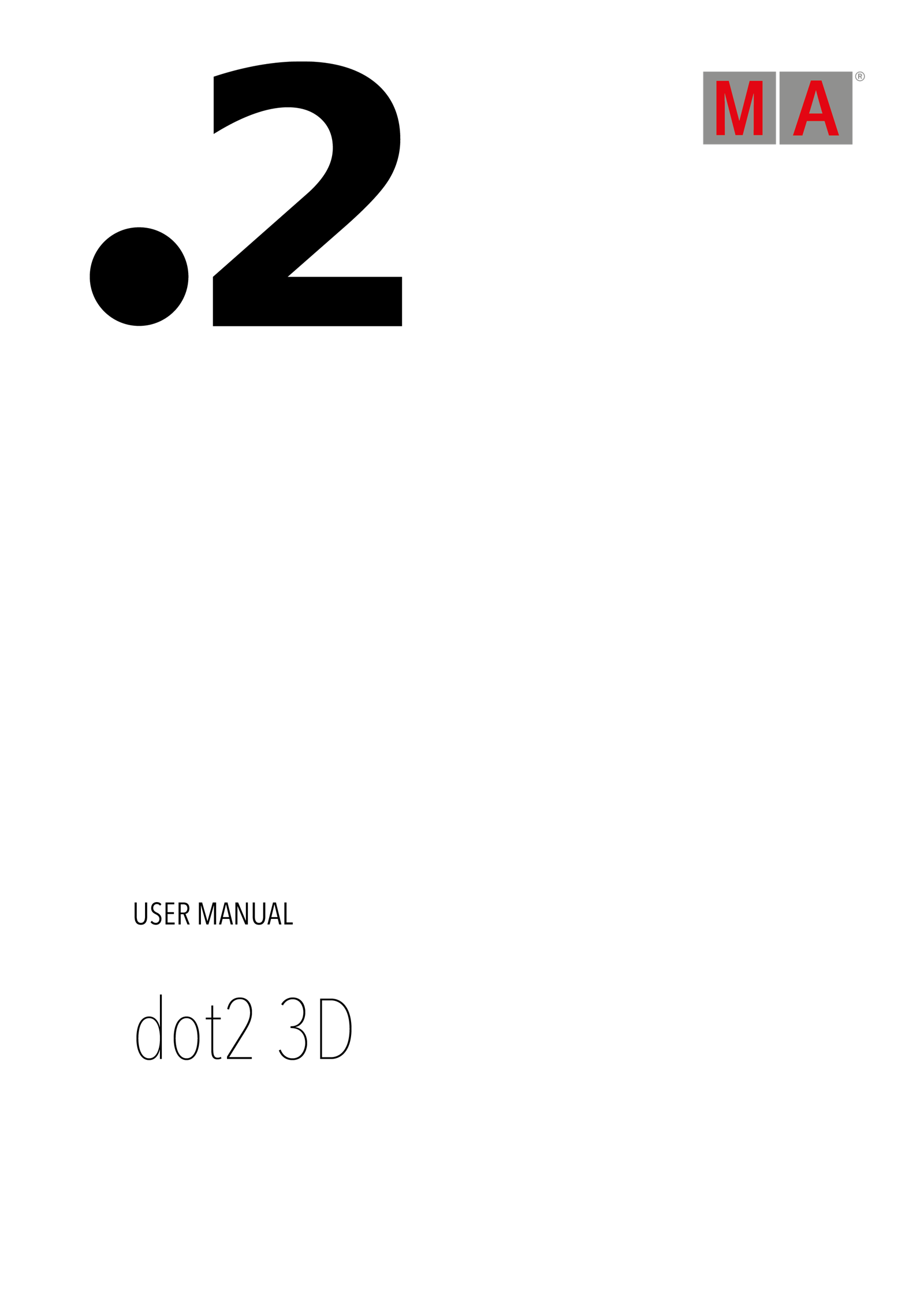 MA Lighting's visualizer and preprogramming studio - the PC software dot2 3D - is an extremely powerful tool to visualize and design three-dimensional stage layouts. In conjunction with the dot2 console or the dot2 onPC program conventional and moving light fixtures can be displayed.
dot2 3D allows a straight forward design and set up of any custom stage or scenery layout with its 2D drawing facilities and a library of basic graphical elements. Multiple windows both in 2D or 3D view with any camera angle can be opened at the same time and will be updated in real-time. All the stage elements can be positioned in x/y/z directions and can also be rotated around the various axes. Textures to design these elements' surfaces can be chosen from the built-in library, or you may import your own graphic files and even video clips and use them as textures.
Position and rotation parameters of objects and cameras on the virtual stage can be controlled via DMX. The equipment can be moved freely in the 3D space via the connected console.
Another big advantage is that the 3D environment is stored in the same showfile in the dot2 system. No matter where you are and which type of dot2 console is being used - you always have the complete showfile with you!
The dot2 3D application runs on powerful Windows® PCs and communicates with the dot2 console via Ethernet IPv6.
Real-time 3D visualisation of all important functions and effects of luminaires and moving lights
Bi-directional data exchange with the dot2 consoles using the same setups
Live programming and preview mode
Follow mode for live-positioning of fixtures from the dot2 3D program to the console
Multiple cameras are available that can be selected and independently positioned during visualisation
Preprogramming of entire shows just with dot2 onPC and dot2 3D
Precise and realistic reproduction of shadows & colour beams in realtime