dot2 User Manual
dot2 Quick Start Guide

1 - Introduction
2 - Physical setup and layout
3 - Create a new empty show
4 - Adding and patching dimmers
5 - Controlling dimmers
6 - Fixture view
7 - The programmer
8 - Making and working with groups
9 - Store a cue and play it back
10 - Making more cues in the cue list
11 - Adding LED fixtures
12 - Working with colors
13 - Creating presets
14 - External screen
15 - Adding moving lights
16 - Controlling moving lights
17 - Making more groups and Presets
18 - More about cues and playback
19 - A look at Blind, Preview and DMX tester
20 - Fun with macros
21 - Building chasers
22 - Building dynamic effects
23 - Connect to onPC, 3D, Wings and Nodes
24 - Happy programming

dot2 3D
dot2 Release Notes
Getting Started Guide - Making more groups and presets
Table of contents of this topic
In this chapter we are going to update the groups and make some more presets.
You have already learnt all you need to do this. So this will be a little repetition and prepare some things for the next chapter.
Updating the groups
We need to make some more groups.
Make one for each of the two new fixture types and call them All X4 and All 700.
And we need to add fixtures to the appropriate groups.
Select fixtures 21, 23, 31, 33, 35, 41, 44 and 47 and Store Group Stage Right and in the store pop-up you need to select Merge.
For the group called "Stage Left" we need to add fixtures 22, 24, 32, 34, 36, 43, 46 and 49.
Group "Up Stage" needs fixtures 23, 24, 35, 36, 47, 48 and 49.
Group "Down Stage" needs fixtures 21, 22, 33, 34, 44, 45 and 46.
Group "All Stage" needs fixtures 21, 22, 23, 24, 33, 34, 35, 36, 44, 45, 46, 47, 48, 49.
Group "All FOH" needs fixtures 31, 32, 41, 42 and 43.
We also need a new group called "Center Stage" with fixtures 2, 3, 6, 7, 10, 11, 42, 45 and 48.
Now you might want to rearrange the groups - you can do this with the Move key. This is how I arranged them: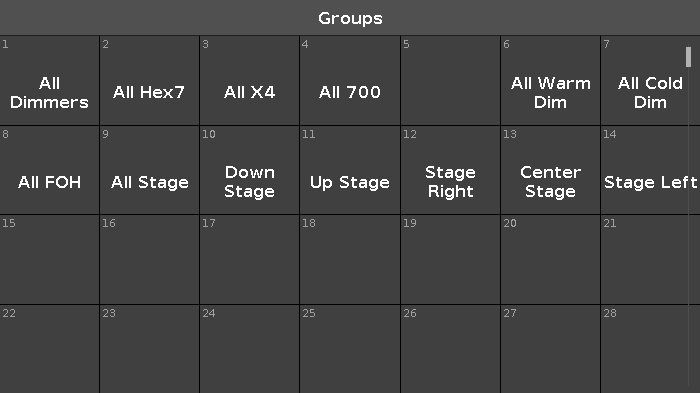 Making more presets
In the previous chapter we looked at how we controlled the position of the moving lights.
Make five different position presets called "All Stage Wash", "All Stage Profile", "Chair", "Speaker" and "Starting Position" with all the moving lights. Here's my result:

The Alpha Profiles have a gobo wheel. Make three gobo presets - the first one should be one without any gobo. Mine looks like this:

We also need to update the color presets. Again it's a good idea to have one that's open, White or No Color. When you update these, then they change how they look. That's because we now also add information about the color wheel, the console prioritize the color mixing system and keeps the color wheel on open white. So the small colored frame with a white circle represents the color wheel (it's all white in all my presets). Mine looks like this:

I don't care for the Beam, so I'm gonna skip those. You can make some if you want.
The focus handles both Zoom and Focus. We need three different Zoom presets and two different focus presets. Pay attention to only getting the zoom information in the zoom presets and only focus information in the focus ones. And please add both the X4's and the Alpha Profiles in the Zoom presets. Here's mine and what I've called them:

I also don't care about the control channels. But the Shapers are fun. I made two. One that's open and one where the shapers are in. I called that one "Forrest" - it goes with what we are going to use them for in the next chapters. Here's my result: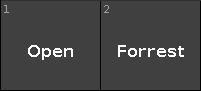 I think we are done making presets. You can make some more if you like :-)
In the next chapter we are going to add some more information to our cues.